Ubiquiti Wireless Products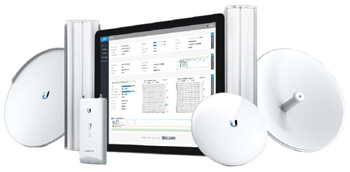 High Performance airMAX ac Bridge
airMAX ac technology provides performance improvements in latency, throughput and scalability compared to other outdoor systems in its class. airMAX ac products offer improved latency, noise immunity, scalability and significantly increased throughput performance.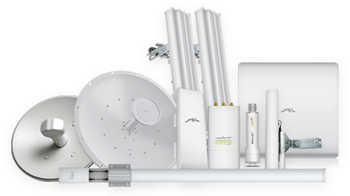 Revolutionary MIMO TDMA Protocol System
Unlike standard WiFi protocol, airMAX Time Division Multiple Access (TDMA) protocol allows each client to send and receive data using pre-designated time slots managed by an intelligent AP controller.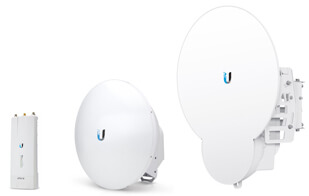 High-Performance Wireless Backhaul
airFiber ushers in a new era in price-disruptive wireless technology, delivering amazing wireless gigabit+ performance, low latency and long range, making it ideal for carrier backhaul, building-to-building enterprise use or public safety applications.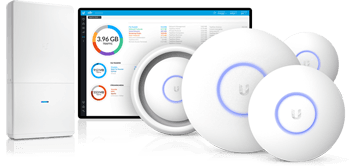 Scalable and Unified Enterprise WiFi Management
UniFi is the revolutionary Wi-Fi system that combines Enterprise performance, unlimited scalability, a central management controller and disruptive pricing. Ubiquiti Routing & Switching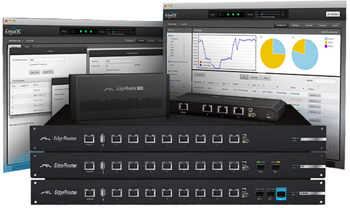 Advanced Network Routing and Switching
Carrier-class reliability and performance are combined with enterprise-level features in a compact and affordable unit. EdgeMAX software integrates with EdgeMAX hardware for the routing, switching, security and management features required to efficiently run your network.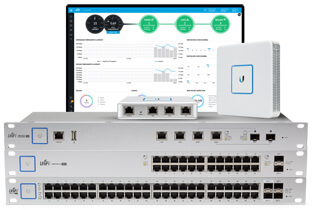 High-Performance Routing and Advanced Security & Network Switching
The UniFi Security Gateway extends the reach of the UniFi Enterprise System to route, secure, and manage your network for optimal performance and reliability. Managed by the UniFi Controller software, the UniFi Switch delivers powerful performance, intelligent switching, and PoE+ support for your enterprise networks. Other Ubiquiti Products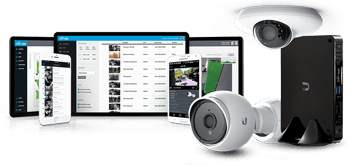 Unified Video Surveillance Management
Easily scale IP surveillance camera networks to hundreds of plug and play, high-performance devices across multiple locations. Manage and control your system with intuitive software packed with powerful features and analytic capabilities — all without licensing fees or support costs.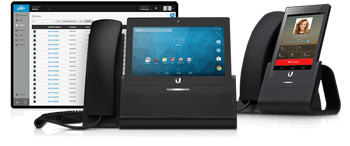 Scalable Enterprise Telephony
Powered by Android, the UniFi VoIP Phones are enterprise desktop smartphones designed to seamlessly integrate into the UniFi Enterprise System.
Sale! Quick View
Ubiquiti Wireless
Ubiquiti Networks NanoStation loco M2 Indoor/Outdoor airMAX CPEKSh6,500.000Add to cartQuick View
Ubiquiti Wireless
Ubiquiti BM2HP Bullet M2 HP airMAX Outdoor 2.4GHz WiFi PoE Access Point (150Mbps N) KSh9,500.000 Add to cartQuick View
Ubiquiti Wireless
Ubiquiti Networks NBE-5AC-16 NanoBeam ac High-Performance airMAX Bridge KSh10,500.000 Add to cart Sale! Quick View
Ubiquiti Accessories
Ubiquiti PoE Adapter 48vKSh4,000.000Add to cartQuick View
Ubiquiti Wireless
Ubiquiti NanoStation M5 MIMO Wireless Bridge/Base Station NSM5 KSh9,500.000 Add to cartQuick View
Ubiquiti Networks Access Points
Ubiquiti UAP-AC-M UniFi 802.11 ac Mesh KSh13,500.000 Add to cartQuick View
Ubiquiti Wireless
LBE-5AC-Gen2 – Ubiquiti airMAX LiteBeam Gen 2 5AC 5GHz 23dBi CPERated 5.00 out of 5 KSh8,500.000 Add to cartQuick View
Ubiquiti Accessories
Ubiquiti UB-AM Universal Antenna Mount/Arm Bracket KSh2,500.000 Add to cartQuick View
Ubiquiti Accessories
UC-CK Ubiquiti Unifi Cloud Key – Remote Control Device KSh12,000.000 Add to cartQuick View
Ubiquiti Accessories
TC-CON Ubiquiti TOUGHCable Connector KSh120.000 Add to cartQuick View
Ubiquiti Accessories
Ubiquiti ETH-SP Ethernet Surge Protector KSh2,700.000 Add to cartQuick View
Ubiquiti Accessories
CRM-P Ubiquiti CRM Point Central Managment Airmax KSh13,000.000
Ubiquiti Wireless
RD-5G31-AC – Ubiquiti RocketDish with Radome 5.1-5.8GHz 31dBi Parabolic Antenna KSh41,500.000 Add to cartQuick View
Ubiquiti Wireless
Ubiquiti Networks RM5-Ti RocketM5 Titanium 2×2 MIMO airMAX BaseStation KSh30,000.000 Add to cartQuick View
Ubiquiti Wireless
R2AC-PRISM – Ubiquiti airMAX Rocket 2AC Prism 2GHz 802.11ac BaseStation KSh25,000.000 Add to cartQuick View
Ubiquiti Wireless
R5AC-PTMP Ubiquiti Rocket 5 AC Point-to-Multipoint Wireless Bridge Base Station KSh27,000.000 Add to cartQuick View
Ubiquiti Wireless
Ubiquiti Networks R5AC-LITE rocket ac airMAX ac BaseStation KSh17,000.000 Add to cartQuick View
Ubiquiti Wireless
Ubiquiti Networks PS-5AC-45 PrismStation 5AC Shielded airMAX Radio KSh40,000.000 Add to cartQuick View
Ubiquiti Wireless
Ubiquiti Networks PBE-M5-620 PowerBeam airMAX Bridge KSh33,000.000 Add to cartQuick View
Ubiquiti Wireless
PBE-M5-400-ISO – Ubiquiti PowerBeam ISO 5GHz 25dBi 400mm Bridge KSh18,000.000 Add to cartQuick View
Ubiquiti Wireless
PBE-5AC-Gen2 – Ubiquiti airMAX PowerBeam Gen 2 5AC 5GHz Bridge KSh16,500.000 Add to cartQuick View
Ubiquiti Wireless
Ubiquiti Networks PBE-5AC-620 PowerBeam ac High-Performance airMAX Bridge KSh36,000.000 Add to cartQuick View
Ubiquiti Wireless
Ubiquiti Networks PBE-5AC-500 PowerBeam ac High-Performance airMAX Bridge KSh23,500.000 Add to cartQuick View
Ubiquiti Wireless
PBE-5AC-300-ISO – Ubiquiti PowerBeam 802.11ac ISO 5GHz 22dBi 300mm Bridge
Ubiquiti Wireless
NS-5ACL- Ubiquiti airMAX NanoStation AC Loco 5Ghz 802.11ac KSh7,500.000 Add to cartQuick View
Ubiquiti Wireless
NS-5AC – Ubiquiti airMAX NanoStation AC 5Ghz 802.11ac KSh17,000.000 Add to cartQuick View
Ubiquiti Wireless
Ubiquiti Networks NBE-M5-19 5 GHz 19dBi High-Performance airMAX BridgeRead moreQuick View
Ubiquiti Wireless
NBE-M5-19 – Ubiquiti NanoBeam M5 5GHz 19dBi airMAX KSh11,500.000 Add to cartQuick View
Ubiquiti Wireless
NBE-M5-16 – Ubiquiti NanoBeam M5 5GHz 16dBi airMAX CPE KSh9,000.000 Add to cartQuick View
Ubiquiti Wireless
Ubiquiti Networks NBE-M2-13 NanoBeam M 2.4GHz 13dBi High Performance airMAX Bridge KSh10,500.000 Add to cartQuick View
Ubiquiti Wireless
NBE-5AC-Gen2 – Ubiquiti airMAX NanoBeam Gen 2 5AC 2.4/5GHz 19dBi CPE KSh13,000.000 Add to cartQuick View
Ubiquiti Wireless
NBE-5AC-19 – Ubiquiti airMAX NanoBeam 5GHz 19dBi 802.11ac CPE KSh13,000.000 Add to cartQuick View
Ubiquiti Wireless
LBE-5AC-23 – Ubiquiti airMAX LiteBeam 802.11ac 23dBi 5GHz Wireless Broadband CPE KSh8,500.000 Add to cartQuick View
Ubiquiti Wireless
IS-M5 – Ubiquiti airMAX IsoStation M5 5GHz 14dBi CPE (w/ Horn Antenna) KSh13,500.000 Add to cartQuick View
Ubiquiti Wireless
Ubiquiti IS-5AC IsoStation 5AC Outdoor 5GHz 14dBi WiFi PoE Access Point w/ Isolation Antenna (450Mbps+ AC) KSh16,000.000 Add to cartQuick View
Ubiquiti Wireless
Ubiquiti BM5-Ti Bullet M5 Titanium Outdoor 5GHz WiFi Access Point (150Mbps N)
Ubiquiti Wireless
B‑DB‑AC Ubiquiti Networks Bullet AC Dual-Band airMAX ac Radio KSh12,500.000 Add to cartQuick View
Ubiquiti Accessories
AF-5G-OMT-S45 – Ubiquiti airFiber OMT RD Conversion Kit 5GHz 45deg slant KSh5,000.000 Add to cartQuick View
Ubiquiti Wireless
Ubiquiti Networks AF-5U airFiber High-Band 5 GHz Carrier Class Point-to-Point Gigabit KSh155,000.000 Add to cartQuick View
Ubiquiti Routers
USG-PRO-4 – Ubiquiti UniFi Security Gateway Pro 4-port KSh40,000.000 Add to cartQuick View
Ubiquiti Routers
USG Ubiquiti Networks UniFi Enterprise Gateway Router with Gigabit Ethernet KSh16,000.000 Add to cartQuick View
Ubiquiti Routers
ER-X-SFP – Ubiquiti EdgeMAX 5-Port Gigabit EdgeRouter X 5W SFP KSh10,500.000 Add to cartQuick View
Ubiquiti Routers
Ubiquiti Networks ERPOE-5 EdgeRouter PoE 5-Port Advanced Network RouterRead moreQuick View
Ubiquiti Routers
Ubiquiti Networks EdgeRouter ER-8-XG 8 Port 10G SFP+ Rackmount RouterRead moreQuick View
Ubiquiti Routers
ER-8 – Ubiquiti EdgeMAX 8-Port Gigabit EdgeRouter (rack mount) KSh41,500.000 Add to cartQuick View
Ubiquiti Routers
EP-R8 – Ubiquiti EdgePoint R8 Intelligent WISP Control Point Layer-3 Router KSh60,000.000 Add to cartQuick View
Ubiquiti Antennas
Ubiquiti Networks PRISMAP-5-90 airMAX ac Beamwidth Sector Isolation Antenna Horn KSh11,000.000 Add to cartQuick View
Ubiquiti Antennas
Ubiquiti Networks PRISMAP-5-30 airMAX ac Beamwidth Sector Isolation Antenna Horn
Ubiquiti Antennas
Ubiquiti airPrism AP-5AC-90-HD 5 GHz, 3×30 HD Sector Antenna KSh69,000.000 Add to cartQuick View
Ubiquiti Antennas
AM-V5G-Ti – Ubiquiti airMAX Titanium Sector Antenna 5GHz 19-21dBi Variable Beamwidth Dual-Pol KSh37,000.000 Add to cartQuick View
Ubiquiti Antennas
AM-V2G-Ti – Ubiquiti Antenna Titanium 2.4GHz Variable Beamwidth Dual-Pol Sector KSh45,000.000 Add to cartQuick View
Ubiquiti Antennas
AM-5G19 – Ubiquiti Antenna AM-5G19 5Ghz 19dBi 120-deg Dual-Pol Sector KSh22,500.000 Add to cartQuick View
Ubiquiti Antennas
AM-5G16 – Ubiquiti Antenna AM-5G16 5Ghz 16dBi 120-deg Dual-Pol Sector KSh12,000.000 Add to cartQuick View
Ubiquiti Antennas
AMO-2G13 – Ubiquiti Omni 2.35-2.55 GHz 13dBi Antenna KSh33,000.000 Add to cartQuick View
Ubiquiti Antennas
AM-5AC21-60 – Ubiquiti airMAX 5GHz 21dBi 60deg 802.11AC Sector Antenna (2×2 MiMO) KSh32,000.000 Add to cartQuick View
Ubiquiti Antennas
Ubiquiti Networks AM-2G16-90 AirMAX 2.4 GHz 2×2 MIMO Sector Antenna KSh20,000.000 Add to cartQuick View
Ubiquiti Antennas
AF-5G30-S45 – Ubiquiti airFiber Antenna 5GHz 30dBi 45deg Slant Parabolic Dish KSh25,000.000 Add to cartQuick View
Ubiquiti Antennas
AF-2G24-S45 – Ubiquiti airFiber Antenna 2.4GHz 24dBi 45deg Slant Parabolic Dish KSh35,000.000 Add to cartQuick View
Ubiquiti Networks Access Points
UAP-AC-LR US – Ubiquiti UniFi 802.11ac Long Range Indoor 2.4/5GHz AP KSh13,500.000 Add to cartQuick View
Ethernet Network Switches
US-8-60W – Ubiquiti UniFi 8-Port 60W PoE Managed Gigabit Switch KSh18,000.000 Add to cart
Ethernet Network Switches
Ubiquiti Networks US-8 UniFi 8-Port Gigabit PoE Compliant Managed Switch KSh15,000.000 Add to cartQuick View
Ethernet Network Switches
US-48-750W – Ubiquiti UniFi Switch 48-port PoE Switch 750W KSh130,000.000 Add to cartQuick View
Ethernet Network Switches
US-48-500W – Ubiquiti UniFi Switch 48-port Gigabit PoE Switch 500W KSh105,000.000 Add to cartQuick View
Ethernet Network Switches
Ubiquiti Networks US-48 48-Port UniFi Managed Gigabit Switch with SFP KSh52,000.000 Add to cartQuick View
Ethernet Network Switches
US-24-500W – Ubiquiti UniFi Switch 24-Port PoE Switch 500W KSh72,000.000 Add to cartQuick View
Ethernet Network Switches
US-24-250W – Ubiquiti UniFi Switch 24-Port PoE Switch 250W KSh55,000.000 Add to cartQuick View
Ethernet Network Switches
ES-48-LITE – Ubiquiti EdgeSwitch 48-Port Lite Gigabit Switch 56W KSh51,000.000 Add to cartQuick View
Ethernet Network Switches
ES-24-LITE – Ubiquiti EdgeSwitch 24-Port Lite Gigabit Switch 25W KSh29,000.000 Add to cartQuick View
Ethernet Network Switches
ES-24-250W – Ubiquiti EdgeSwitch 24-Port PoE Switch 250W KSh56,000.000 Add to cartQuick View
Ethernet Network Switches
ES-16-150W – Ubiquiti EdgeSwitch 16-Port PoE Switch 150W KSh40,000.000 Add to cartQuick View
Ethernet Network Switches
ES-48-500W – Ubiquiti EdgeSwitch 48-Port PoE Switch 500WRead moreQuick View
Ethernet Network Switches
Ubiquiti EdgeSwitch 16 XG – ES-16-XG KSh71,000.000 Add to cart
Ethernet Network Switches
EP-S16 – Ubiquiti EdgePoint S16 Intelligent WISP Control Point Layer-2 SwitchKSh64,000.000Add to cartQuick View
Ethernet Network Switches
Ubiquiti Networks TS-16-CARRIER 16-Port TOUGH Switch PoE Carrier KSh54,000.000 Add to cartQuick View
Ethernet Network Switches
US-16-150W Ubiquiti UniFi Switch 16 ports 150W KSh42,000.000 Add to cart Sale! Quick View
Ubiquiti Routers
ER-X Ubiquiti EdgeRouter X, 5-Port, single Passive PoEKSh8,000.000Add to cart Sale! Quick View
Ubiquiti Accessories
Ubiquiti POE-24-24W-G 24V DC 1A 24W Replacement Gigabit PoE AdapterKSh3,000.000Add to cartQuick View
Ethernet Network Switches
Ubiquiti Networks US-16-XG-US 10G 16-Port Managed Aggregation Switch KSh70,000.000 Add to cartQuick View
Ubiquiti Networks Access Points
Ubiquiti Networks UAP-AC-SHD 802.11AC Wave Access Point KSh59,500.000 Add to cartQuick View
Ubiquiti Networks Access Points
UAP-AC-EDU – Ubiquiti UniFi 802.11ac EDU Indoor 2.4/5GHz AP (3×3 MiMO) KSh45,000.000 Add to cart Sale! Quick View
Ethernet Network Switches
Ubiquiti Networks 8-Port UniFi Switch US-8-150WKSh32,000.000Add to cart Sale! Quick View
Ubiquiti Routers
Ubiquiti AIRROUTER-HP airRouter AR-HP IEEE 802.11n Ethernet Wireless RouterKSh6,000.000Add to cartQuick View
Ubiquiti Routers
Ubiquiti EP-R6 EdgePoint 5-Port Layer 3 Managed Gigabit PoE Switch KSh15,500.000 Add to cartQuick View
Ubiquiti Antennas
RD-5G34 – Ubiquiti RocketDish 4.9-5GHz 34dBi Dual-Pol Parabolic Antenna KSh55,000.000 Add to cart
Ubiquiti Networks Access Points
Ubiquiti UniFi In-Wall 2.4GHz AP UAP-IW USKSh10,000.000Add to cart Sale! Quick View
Ubiquiti
Ubiquiti Networks Unifi 802.11ac Dual-Radio PRO Access Point Unifi AC Pro (UAP-AC-PRO)KSh20,000.000Add to cart Sale! Quick View
Ubiquiti Networks Access Points
UAP-AC-M-PRO – Ubiquiti UniFi 802.11ac Mesh Pro Outdoor 2.4/5GHz APKSh25,000.000Add to cart Sale! Quick View
Ubiquiti Networks Access Points
Ubiquiti UAP-AC-LR Networks Enterprise Wi-Fi SystemKSh15,000.000Add to cart Sale! Quick View
Ubiquiti Networks Access Points
Ubiquiti Unifi Ap-AC Lite – Wireless Access Point – 802.11 B/A/G/n/ACKSh12,000.000Add to cart Sale! Quick View
Ubiquiti Networks Access Points
UBIQUITI NETWORKS UniFi AC In-Wall-UAP-AC-IWKSh14,000.000Add to cart Sale! Quick View
Ubiquiti Networks Access Points
Ubiquiti UAP-AC-HD Unifi Access PointKSh39,000.000Add to cartQuick View
Ubiquiti Networks Access Points
AmpliFi HD (High Defination) Home Wi-Fi Router (AFI-R) KSh19,500.000 Add to cartQuick View
Ubiquiti Networks Access Points
Ubiquiti airGateway-LR airMAX WISP 2.4 GHz Wireless Access Point KSh3,700.000 Add to cart Sale! Quick View
Ubiquiti Networks Access Points
Ubiquiti airGateway Installer Indoor AP (AG-PRO-INS)KSh7,000.000Add to cart Sale! Quick View
Ubiquiti Networks Access Points
Ubiquiti airGateway 2.4 GHz Indoor AP 50m (Internal Antenna)KSh3,500.000Add to cart Sale! Quick View
Ubiquiti Wireless
PBE‑M2‑400 Ubiquiti PowerBeam M2 Wireless BridgeKSh12,000.000
Ubiquiti Wireless
Ubiquiti PowerBeam AC PBE-5AC-500-ISO 802.11ac Wireless Bridge KSh28,000.000 Add to cartQuick View
Ubiquiti Wireless
Ubiquiti PowerBeam AC PBE-5AC-500 5GHz 27DBi AirMax AC Bridge KSh23,000.000 Add to cart Sale! Quick View
Ubiquiti Wireless
Ubiquiti Networks PBE-5AC-400 5GHz PowerBeam ac 25dBi 400mmKSh14,500.000Add to cartQuick View
Ubiquiti Wireless
Ubiquiti PBE-5AC-300-ISO 5GHz PowerBeam airMAX AC 300mm KSh16,500.000 Add to cart Sale! Quick View
Ubiquiti Wireless
Ubiquiti PowerBeam AC – PBE-5AC-300KSh14,000.000Add to cartQuick View
Ubiquiti Wireless
LBE‑5AC‑16‑120 Ubiquiti LiteBeam AC 5GHz 802.11ac built-in 120 Degree 16dBi Sector 2×2 MIMO KSh11,500.000 Add to cartQuick View
Ubiquiti Antennas
AF-5G34-S45 – Ubiquiti airFiber Antenna 5GHz 34dBi 45 degrees Slant Parabolic Dish KSh58,000.000 Add to cartQuick View
Ubiquiti Routers
ERPro-8 – Ubiquiti EdgeMAX 8-Port Gigabit EdgeRouter Pro (fiber-enabled, rack mount) KSh45,000.000 Add to cartQuick View
Ubiquiti Antennas
Ubiquiti AF-5 airFiber 5 GHz Carrier Class Point-to-Point Gigabit Radio KSh155,000.000 Add to cart Sale! Quick View
Networking Accessories
Ubiquiti Networks TC-CARRIER TOUGHCable Carrier, Outdoor Carrier Class Shielded Ethernet Cable, 1000-ftKSh30,000.000Add to cartQuick View
Ubiquiti Wireless
LBE‑M5‑23 – Ubiquiti LiteBeam M5 23dBi 5GHz Wireless Broadband CPE KSh6,500.000 Add to cartQuick View
Ubiquiti Antennas
Ubiquiti Networks airFiber AF-5X 5 GHz Carrier Backhaul Radio KSh50,000.000 Add to cart
Ubiquiti Antennas
Ubiquiti Networks AMO-5G13 5Ghz 13Dbi Airmax Omni Antenna KSh21,000.000 Add to cartQuick View
Ubiquiti Networks Access Points
Ubiquiti Networks Unifi 802.11ac Dual-Radio PRO Access Point (UAP-AC-PRO) KSh19,000.000 Add to cart Sale! Quick View
Ubiquiti Wireless
Ubiquiti UniFI AP Outdoor 2×2 MIMO 5GHz 802.11n/aKSh20,500.000Add to cart Sale! Quick View
Ubiquiti Networks Access Points
UniFi Enterprise – Unifi AP Indoor 802.11n ( Access Point) UAPKSh9,500.000Add to cart Sale! Quick View
Ubiquiti Networks Access Points
UniFi Enterprise WiFi System AP Long Range UAP-LRKSh11,000.000Add to cart Sale! Quick View
Ubiquiti Networks Access Points
Ubiquiti Networks UAP-PRO UniFi Access Point Enterprise Wi-Fi System AP-ProKSh28,000.000Add to cart Sale! Quick View
Ubiquiti Accessories
Ubiquiti Networks 24V PoE Adapter with Gigabit LAN PortKSh3,500.000Add to cart Sale! Quick View
Ubiquiti Accessories
Ubiquiti Networks 15V PoE AdapterKSh3,500.000Add to cart Sale! Quick View
Ubiquiti Antennas
Ubiquiti Networks PBE-M5-400 PowerBeam airMAX BridgeKSh12,000.000Add to cartQuick View
Ethernet Network Switches
Ubiquiti TS-8-PRO ToughSwitch 8 Port KSh23,000.000 Add to cart Sale! Quick View
Ubiquiti Routers
Ubiquiti Networks ERLite-3 EdgeMax EdgeRouter Lite 3-Port RouterKSh15,000.000Add to cart Sale! Quick View
Ubiquiti Wireless
Ubiquiti Bullet M5 HP 802.11a/n 320mW Outdoor Wireless Radio AP/BridgeKSh10,500.000
Ubiquiti Wireless
RM2 Ubiquiti Rocket M2 airMAX 2.4 GHzKSh11,000.000Add to cart Sale! Quick View
Ubiquiti Networks Access Points
Ubiquiti Networks Picostation2 Cpe M Series Hp (PICOM2-H)KSh11,000.000Add to cart Sale! Quick View
Ubiquiti Wireless
RM5 Ubiquiti ROCKET M5 5GHz Hi Power 2×2 MIMO TDMA airMAX BaseStation (ROCKETM5)KSh11,000.000Add to cart Sale! Quick View
Ubiquiti Wireless
Ubiquiti NanoStation M2 – Wireless Access Point – AirMax (NSM2)KSh10,500.000Add to cart Sale! Quick View
Ubiquiti Wireless
NSM5 Nanostation M5 Ubiquiti airMAX Wireless Outdoor CPEKSh10,000.000Add to cart Sale! Quick View
Ubiquiti Wireless
Ubiquiti Networks NanoStation locoM5 Indoor/Outdoor airMAX CPEKSh7,500.000Add to cart Sale! Quick View
Ubiquiti Antennas
AM-2G15 – Ubiquiti Antenna AM-2G15 2Ghz 15dBi 120-deg Dual-Pol SectorKSh24,000.000Add to cartQuick View
Ethernet Network Switches
Ubiquiti Networks US-24 24-Port UniFi Managed Gigabit Switch with SFP KSh27,500.000 Add to cart Sale! Quick View
Ubiquiti Wireless
UBIQUITI airGrid M5 27 dBi airMAX Wireless Broadband CPE (AG-HP-5G27)KSh12,000.000Add to cartQuick View
Ubiquiti Wireless
UBIQUITI airGrid M5 23 dBi airMAX Wireless Broadband CPE (AG-HP-5G23) KSh9,000.000 Add to cart Sale! Quick View
Ubiquiti Wireless
Ubiquiti Networks PowerBeam M5 5GHz 22dBi, PBE-M5-300KSh11,500.000Add to cart Sale! Quick View
Ubiquiti Antennas
AF-5G23-S45 – Ubiquiti airFiber Antenna 5GHz 23dBi 45deg Slant Parabolic DishKSh21,000.000Add to cart
Ubiquiti Antennas
RD-5G30-LW – Ubiquiti Antenna 5GHz 30dBi Light Weight Dual-Pol Parabolic RocketDishKSh25,000.000Add to cartQuick View
Ubiquiti Wireless
Ubiquiti PowerBridge M5 Carrier Class 5GHz MIMO Bridging Solution
AmpliFi™ HD Mesh Router
AmpliFi™ HD Mesh Router
802.11ac Dual Radio High Density Mesh Router
2.4
GHZ 5
GHZ 1750
MBPS PLUG AND PLAY
AmpliFi™ MeshPoint HD
AmpliFi™ MeshPoint HD
802.11ac Dual Radio High Density Mesh Point
2.4
GHZ 5
GHZ 1750
MBPS PLUG AND PLAY
AmpliFi™ Instant
AmpliFi™ Instant
Whole-Home Wi-Fi in Under 2 Minutes
2.4
GHZ 5
GHZ PLUG AND PLAY
Wireless
UniFi® AP HD
UniFi® AP HD
802.11ac Wave 2 Enterprise Wi-Fi Access Point
2.4
GHZ 5
GHZ 800
MBPS 1733
MBPS
UniFi® AP SHD
UniFi® AP SHD
802.11ac Wave 2 Access Point with Dedicated Security Radio
2.4
GHZ 5
GHZ 800
MBPS 1733
MBPS
UniFi® AP AC LITE
UniFi® AP AC LITE
802.11ac Dual Radio Access Point
2.4
GHZ 5
GHZ 300
MBPS 867
MBPS
UniFi® AP AC LR
UniFi® AP AC LR
802.11ac Long Range Access Point
2.4
GHZ 5
GHZ 450
MBPS 867
MBPS
UniFi® AP AC PRO
UniFi® AP AC PRO
802.11ac PRO Access Point
2.4
GHZ 5
GHZ 450
MBPS 1300
MBPS
UniFi® AP AC EDU
UniFi® AP AC EDU
802.11ac Dual-Radio AP with Public Address System
2.4
GHZ 5
GHZ 450
MBPS 1300
MBPS
UniFi® AP XG
UniFi® AP XG
The World's Highest Capacity WiFi AP
2.4
GHZ 5
GHZ 4.2
GBPS
UniFi® WiFi BaseStation XG
UniFi® WiFi BaseStation XG
The World's Highest Capacity Wi-Fi AP
5
GHZ 5.2
GBPS
UniFi® nanoHD
UniFi® nanoHD
4x4 MU-MIMO 802.11ac Wave 2 Access Point
2.4
GHZ 5
GHZ 300
MBPS 1733
MBPS
UniFi® Mesh
UniFi® Mesh
802.11AC Indoor/Outdoor Wi-Fi Access Points with Plug & Play Mesh Technology
5
GHZ 2.4
GHZ
UniFi® Mesh Antenna
UniFi® Mesh Antenna
Directional Dual-Band Antenna for UAP-AC-M
DIRECTIONAL DUAL-BAND High
EFFICIENCY
UniFi® AC In-Wall
UniFi® AC In-Wall
In–Wall 802.11ac Wi–Fi Access Point
2.4
GHZ 5
GHZ 300
MBPS 867
MBPS
UniFi® HD In-Wall
UniFi® HD In-Wall
In-Wall 802.11ac Wave 2 Wi-Fi Access Point
2.4
GHZ 5
GHZ 300
MBPS 1733
MBPS
Routing & Switching
UniFi® Cloud Key Gen2
UniFi® Cloud Key Gen2
Hybrid Cloud Key Technology with Integrated Application Server
UniFi® Cloud Key
UniFi® Cloud Key
Hybrid Cloud Device Management
UniFi® Security Gateway
UniFi® Security Gateway
Enterprise Gateway Router with Gigabit Ethernet
Advanced
FIREWALL VLAN VPN Radius
SERVER
UniFi® Security Gateway Pro 4
UniFi® Security Gateway Pro 4
Enterprise Gateway Router with Gigabit Ethernet
Advanced
FIREWALL VLAN VPN Radius
SERVER Dual
LAN & WAN
UniFi® Security Gateway XG 8
UniFi® Security Gateway XG 8
Gateway Router with Eight 10G SFP+ and One 1G RJ45
Advanced
FIREWALL VLAN VPN Built-In
TOUCHSCREEN
UniFi® XG Server
UniFi® XG Server
10G Rack-Mountable UniFi Application Server
120 GB
SSD 16 GB
DDR 2x2 TB
HARD DRIVES Intel Xeon D-1521
PROCESSOR
UniFi® Switch PoE 24/48
UniFi® Switch PoE 24/48
Managed PoE+ Gigabit Switch with SFP
24/48 GbE
RJ45 PORTS 2 SFP+
PORTS 2 SFP
PORT PoE+
802.3AF/AT
UniFi® Switch 24/48
UniFi® Switch 24/48
Managed Gigabit Switches with SFP
24/48 GbE
RJ45 PORTS 2 SFP+
PORT 2 SFP
PORT
UniFi® Switch 8
UniFi® Switch 8
Fully Managed Gigabit Switch
8 GbE
RJ45 PORTS PoE
POWERED PoE
PASS THROUGH
UniFi® Switch 8-60W
UniFi® Switch 8-60W
Fully Managed Gigabit Switch
8 GbE
RJ45 PORTS 4x 802.3af PoE
PORTS
UniFi® Switch 8-150W
UniFi® Switch 8-150W
Managed PoE+ Gigabit Switch with SFP
8 GbE
RJ45 PORTS 2 SFP
PORTS 24V & PoE+
802.3AF/AT
UniFi® Switch 16-150W
UniFi® Switch 16-150W
Managed PoE+ Gigabit Switch with SFP
16 GbE
RJ45 PORTS 2 SFP
PORTS 24V & PoE+
802.3AF/AT
UniFi® Switch 16 XG
UniFi® Switch 16 XG
10G 16-Port Managed Aggregation Switch
12 1G/10G
SFP+ PORTS 4 1G/10G
RJ45 PORTS 1 RJ45 SERIAL
CONSOLE PORT
UniFi® Switch XG 6PoE
UniFi® Switch XG 6PoE
10G 6-Port Switch with 802.3bt PoE++
4 1/2.5/5/10G
RJ45 PORTS 2 1G/10G
SFP+ PORTS PoE++
802.3AF/AT/BT
UniFi® Industrial Switch
UniFi® Industrial Switch
10-Port Durable Switch with High-Power 802.3bt PoE++
8 PoE++
RJ45 PORTS 10 GbE
RJ45 PORTS PoE++
802.3AF/AT/BT
UniFi® Switch Flex
UniFi® Switch Flex
5-Port Layer 2 Gigabit Switch with PoE Support
5 GbE
RJ45 PORTS 4x 802.3af
POE OUTPUT
VoIP
UniFi® VoIP Phone
UniFi® VoIP Phone
Enterprise VoIP Phone
Android
OS Video
CAMERA WI-FI BLUETOOTH
UniFi® VoIP Phone Executive
UniFi® VoIP Phone Executive
Enterprise VoIP Phone with 7" Touchscreen
Android
OS Video
CAMERA WI-FI BLUETOOTH
Legacy
UniFi® AP
UniFi® AP
Indoor 802.11n Access Point
*5GHz available
2.4
GHZ 5*
GHZ 300
MBPS 450
MBPS
UniFi® AP Outdoor
UniFi® AP Outdoor
Outdoor 802.11n Access Point
5
GHZ 300
MBPS
Cameras
UniFi® Video Camera G3
UniFi® Video Camera G3
1080p Indoor/Outdoor IP Camera with Infrared
1080p
HD 30
FPS Built-In
MIC
UniFi® Video Camera G3 Dome
UniFi® Video Camera G3 Dome
Wide-Angle 1080p Dome IP Camera with Infrared
1080p
HD 30
FPS Built-In
MIC
UniFi® Video Camera G3 Micro
UniFi® Video Camera G3 Micro
Micro-Size Scalable 1080p HD IP Camera
1080P
HD 30
FPS Built-In
MIC
UniFi® Video Camera G3-PRO
UniFi® Video Camera G3-PRO
1080p Weatherproof IP Camera with Optical Zoom
1080p
HD Waterproof
IP67 Optical
ZOOM
UniFi® Video G3-FLEX Camera
UniFi® Video G3-FLEX Camera
1080p Indoor/Outdoor PoE Camera with Infrared
1080p
HD 25
FPS Built-In
MIC 802.3af
POE
UniFi® Video Camera G4-PRO
UniFi® Video Camera G4-PRO
4K Indoor/Outdoor IP Camera with Infrared and Optical Zoom
4K Waterproof
IP67 Optical
ZOOM
LED Lighting
UniFi® Dimmer Switch
UniFi® Dimmer Switch
PoE LED Dimmer Switch
UniFi® LED
UniFi® LED
Network-Managed LED Panel Powered by PoE+
Radios
airFiber®24
airFiber®24
24 GHz Point-to-Point Gigabit Radio
24
GHZ 1.4+
GBPS 13+ km
RANGE
airFiber®24 HD
airFiber®24 HD
24 GHz Full Duplex Point-to-Point 2 Gbps Radio
24
GHZ 2
GBPS 20+ km
RANGE
airFiber®5
airFiber®5
5 GHz Full Duplex Point-to-Point Gigabit Radio
5
GHZ 1.2+
GBPS 100+ km
RANGE
airFiber®X
airFiber®X
Carrier Backhaul Radio
2.4
GHZ 3
GHZ 4
GHZ 5
GHZ 1.2+
GBPS 200+ km
RANGE
airFiber® 11FX
airFiber® 11FX
Licensed Backhaul Radio
11
GHZ 1.2+
GBPS 300+ km
RANGE
airFiber®5XHD
airFiber®5XHD
The New Standard for WISP Backhaul Performance
4.8
GHZ 6.2
GHZ 1.34
GBPS 100 km
RANGE
Antennas
airFiber® X Antenna
airFiber® X Antenna
Slant 45 Antenna for airFiber®
2.4
GHZ 3
GHZ 5
GHZ 11
GHZ
airFiber NxN
airFiber NxN
Scalable airFiber® MIMO Multiplexer
2+
GBPS 5
GHZ
IsoBeam™
IsoBeam™
Isolator Radome for 620 mm Dish Reflector
5
GHZ
OLT
UFiber OLT
UFiber OLT
GPON Optical Line Terminal
2 SFP+
PORTS 8 PON
PORTS
UFiber OLT 4
UFiber OLT 4
4-Port Optical Line Terminal
SFP+
PORT 4 PON
PORTS
CPE
UFiber Nano G
UFiber Nano G
GPON Optical Network Unit
SC/APC GbE
RJ45 PORT
UFiber loco
UFiber loco
Low-Cost GPON Optical Network Unit
SC/APC GbE
RJ45 PORT
UFiber WiFi
UFiber WiFi
4-Port GPON Router with Wi-Fi
SC/APC 4 GbE
RJ45 PORTS
CPE
IsoStation™ AC
IsoStation™ AC
Shielded airMAX® CPE
5
GHZ 450+
MBPS
LiteBeam® AC
LiteBeam® AC
2x2 MIMO airMAX® ac CPE
5
GHZ 450+
MBPS
NanoBeam® AC
NanoBeam® AC
High-Performance airMAX® ac Bridge
2.4
GHZ 5
GHZ 450+
MBPS 10+ km
RANGE
NanoStation® AC
NanoStation® AC
5 GHz airMAX® ac CPE
5
GHZ 450+
MBPS 15+ km
RANGE
PowerBeam® AC
PowerBeam® AC
High-Performance airMAX® ac Bridge
2.4
GHZ 5
GHZ 450+
MBPS 20+ km
RANGE
PowerBeam® AC ISO
PowerBeam® AC ISO
5 GHz airMAX® ac Bridge with RF Isolated Reflector
5
GHZ 450+
MBPS 25+ km
RANGE
Bullet™ AC
Bullet™ AC
Dual-Band airMAX® ac Radio with Dedicated Wi-Fi Management
2.4
GHZ 5
GHZ 300+
MBPS
AP
PrismStation™ AC
PrismStation™ AC
Shielded airMAX® ac BaseStation with airPrism® Technology
5
GHZ 500+
MBPS GPS
SYNC
Rocket® Prism AC
Rocket® Prism AC
airMAX® ac BaseStation with airPrism® Technology
2.4
GHZ 5
GHZ 330+
MBPS 500+
MBPS GPS
SYNC
LiteAP™ AC
LiteAP™ AC
2x2 MIMO airMAX® ac Sector AP
5
GHZ 450+
MBPS
Rocket® AC
Rocket® AC
airMAX®ac BaseStation
5
GHZ 500+
MBPS
Antennas
airPrism® Sector Antenna
airPrism® Sector Antenna
5 GHz, 3x30° HD Sector Antenna
5
GHZ
airMAX® AC Sector Antenna
airMAX® AC Sector Antenna
airMAX® ac 2x2 BaseStation Sector Antenna
5
GHZ
RocketDish™ AC Antenna
RocketDish™ AC Antenna
airMAX® ac 2x2 PtP Bridge Dish Antenna
5
GHZ
RocketDish™ Antenna
RocketDish™ Antenna
airMAX® 2x2 PtP Bridge Dish Antenna
2.4
GHZ 3
GHZ 5
GHZ
RocketDish™ LW
RocketDish™ LW
airMAX®2x2 PtP Bridge Dish Antenna
5
GHZ
airMAX® Sector Antenna
airMAX® Sector Antenna
airMAX® 2x2 BaseStation Sector Antenna
900
MHZ 2.4
GHZ 3
GHZ 5
GHZ
airMAX® Omni Antenna
airMAX® Omni Antenna
airMAX® 2x2 Omni Antenna
2.4
GHZ 3
GHZ 5
GHZ
airMAX® Yagi Antenna
airMAX® Yagi Antenna
airMAX® 2x2 High-Gain Yagi Antenna
900
MHZ
IsoBeam™
IsoBeam™
Isolator Radome for 620 mm Dish Reflector
5
GHZ
Horn 5
Horn 5
5 GHz Beamwidth Horn Antenna
5
GHZ
Legacy
IsoStation™ M
IsoStation™ M
Shielded airMAX® CPE
5
GHZ 150+
MBPS
airGrid® M
airGrid® M
airMAX® CPE
2.4
GHZ 5
GHZ 100+
MBPS 30+ km
RANGE
LiteBeam™ M5
LiteBeam™ M5
Long-Range, Lightweight airMAX® CPE
5
GHZ 100+
MBPS
NanoBeam® M
NanoBeam® M
High-Performance airMAX® Bridge
5
GHZ 150+
MBPS 15+ km
RANGE
PowerBeam™
PowerBeam™
High-Performance airMAX® Bridge
2.4
GHZ 5
GHZ 150+
MBPS 25+ km
RANGE
PowerBeam® M5 ISO
PowerBeam® M5 ISO
5 GHz airMAX® Bridge with RF Isolated Reflector
5
GHZ 150+
MBPS
Bullet™ M
Bullet™ M
Zero-Variable Outdoor airMAX® Radio
2.4
GHZ 5
GHZ 100+
MBPS
NanoStation® M
NanoStation® M
Indoor/Outdoor airMAX® CPE
900
MHZ 2.4
GHZ 3/3.65
GHZ 5
GHZ 150+
MBPS 15+ km
RANGE
NanoBridge® M
NanoBridge® M
airMAX® Bridge
900
MHZ 2.4
GHZ 3/3.65
GHZ 150+
MBPS 30+ km
RANGE
Rocket® M
Rocket® M
airMAX® BaseStation
900
MHZ 2.4
GHZ 3/3.65
GHZ 5
GHZ 150+
MBPS
Routing
compare models
EdgeRouter™ X
EdgeRouter™ X
Advanced Gigabit Ethernet Router
5 GbE RJ45
PORTS 24V Passive
POE INPUT 24V Passive PoE
PASSTHROUGH
EdgeRouter™ X SFP
EdgeRouter™ X SFP
Advanced Gigabit Router with PoE and SFP
5 GbE RJ45
PORTS 1 SFP
PORT 24V
PASSIVE POE
EdgeRouter™ Lite
EdgeRouter™ Lite
3-Port Router
1 MIL
PPS 3 GbE RJ45
PORTS
EdgeRouter™ PoE
EdgeRouter™ PoE
5-Port Router with Power over Ethernet
1 MIL
PPS 5 GbE RJ45
PORTS 24/48V
PASSIVE POE
EdgeRouter™
EdgeRouter™
8-Port Router
2 MIL
PPS 8 GbE RJ45
PORTS
EdgeRouter™ PRO
EdgeRouter™ PRO
8-Port Router with 2 SFP/RJ45 Ports
2+ MIL
PPS 6 GbE RJ45
PORTS 2 RJ45/SFP
PORTS
EdgeRouter™ Infinity
EdgeRouter™ Infinity
10G SFP+ EdgeRouter Infinity
8 10G SFP+
PORTS 1 GbE RJ45
PORT DUAL
POWER SUPPLY
EdgeRouter™ 4
EdgeRouter™ 4
4-Port Gigabit Router with 1 SFP Port
3.4+ MIL
PPS 3 GbE RJ45
PORTS 1 SFP
PORT
EdgeRouter™ 6P
EdgeRouter™ 6P
6-Port Gigabit Router with 1 SFP Port
3.4+ MIL
PPS 5 GbE RJ45
PORTS 1 SFP
PORT PoE support on
RJ45 PORTS
EdgeRouter™ 10X
EdgeRouter™ 10X
10-Port High-Performance Gigabit Router with PoE Flexibility
10 GbE RJ45
PORTS 24V Passive PoE
PASSTHROUGH
EdgeRouter™ 12
EdgeRouter™ 12
10-Port Gigabit Router with PoE Passthrough and 2 SFP Ports
3.4+ MIL
PPS 10 GbE RJ45
PORTS 2 SFP
PORTS 24V Passive PoE
PASSTHROUGH
EdgeRouter™ 12P
EdgeRouter™ 12P
10-Port Gigabit PoE Router and 2 SFP Ports
3.4+ MIL
PPS 10 GbE RJ45
PORTS 2 SFP
PORTS PoE support on RJ45
PORTS
EdgePoint™
EdgePoint™
Intelligent WISP Control Point with FiberProtect™
Switching
compare models
EdgeSwitch® 8-150w
EdgeSwitch® 8-150w
Managed PoE+ Gigabit Switch with SFP
8 GbE RJ45
PORTS 2 SFP
PORTS 24V & PoE+
802.3AF/AT
EdgeSwitch® Lite
EdgeSwitch® Lite
Managed Gigabit Switch with SFP
24/48 GbE
RJ45 PORTS 2 SFP+
PORTS 2 SFP
PORTS
EdgeSwitch®
EdgeSwitch®
Managed PoE+ Gigabit Switch with SFP
24/48 GbE
RJ45 PORTS 2 SFP+
PORTS 2 SFP
PORTS 24V & PoE+
802.3AF/AT
EdgeSwitch® 12F
EdgeSwitch® 12F
Managed Gigabit Fiber Switch
4 GbE RJ45
PORTS 12 SFP
PORTS
EdgeSwitch® 16 XG
EdgeSwitch® 16 XG
10G 16-Port Managed Aggregation Switch
4 10G RJ45
PORTS 12 SFP+
PORTS
EdgeSwitch® XP
EdgeSwitch® XP
Managed Advanced Power over Ethernet Switches
24V/48V
PASSIVE POE 5 GbE
PORTS 8 GbE
PORTS 16 GbE
PORTS
EdgePoint™
EdgePoint™
Intelligent WISP Control Point with FiberProtect™
EdgeSwitch® 10X
EdgeSwitch® 10X
Managed 10-Port Gigabit Switch with PoE Passthrough
8 GbE RJ45
PORTS 2 SFP
PORTS
EdgeSwitch® 10XP
EdgeSwitch® 10XP
Managed 10-Port Gigabit Switch with PoE
8 GbE RJ45
PORTS 2 SFP
PORTS
Solar Charge Controller
sunMAX™ SolarPoint
sunMAX™ SolarPoint
4x PoE Smart MPPT Charger
sunMAX™ SolarSwitch
sunMAX™ SolarSwitch
4x PoE Smart MPPT Charger
Accessories
airCube™
airCube™
airMAX Home Wi-Fi Access Point
2.4
GHZ 5
GHZ
U-Installer
U-Installer
airMAX® CPE Installation Tool
2.4
GHZ
PoE Adapters
PoE Adapters
Power over Ethernet Adapters
15
VOLT 24
VOLT 48
VOLT 50
VOLT
Instant 802.3af Adapters
Instant 802.3af Adapters
Indoor and Outdoor PoE Converters
1
GBPS
TOUGHCable™
TOUGHCable™
Outdoor Shielded Ethernet Cable
1
GBPS 24
AWG
Ethernet Surge Protector
Ethernet Surge Protector
Ethernet to Ethernet Grounded ESD Protection
1
GBPS 15
VOLT 24
VOLT 48
VOLT 50
VOLT
EdgePower™
EdgePower™
Modular DC Power Supply for EdgePoint
EdgePower™ 24V
EdgePower™ 24V
Power Supply with UPS and PoE
EdgePower™ 54V
EdgePower™ 54V
Power Supply with UPS and PoE
PowerCable
PowerCable
Carrier-Grade Outdoor Electrical Cable
Fiber PoE Accessory
Fiber PoE Accessory
Optical Data Transport for Outdoor POE Devices
Fiber Modules & Cable
Fiber Modules & Cable
SFP/SFP+ Modules and Cabling
GPON Network Accessories
GPON Network Accessories
GPON OLT SFP Modules, SC/APC Adapters, Patch Cables, PLC Splitters
Precision Alignment Kit
Precision Alignment Kit
Precision Alignment Kit for 620 mm Dish Reflector
IR Range Extender
IR Range Extender
IR Range Extender for UVC-G3
PowerModule
PowerModule
AC/DC, DC/DC Power Modules
NanoSwitch™
NanoSwitch™
Outdoor 4-Port PoE Passthrough Switch
1 GbE 24V
POE INPUT 3 GbE 24V
POE OUTPUT
UniFi® NVR
UniFi® NVR
Network Video Recorder
2 TB
STORAGE