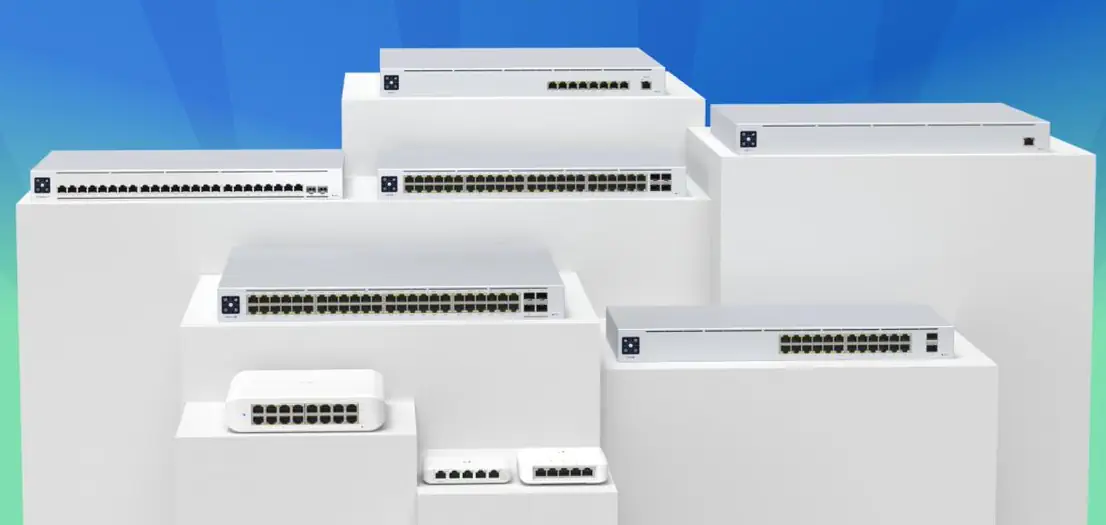 Ubiquiti UniFi switches solve the problem of power, connectivity, and traffic handling for all your devices. Because the size and layout of each deployment is unique, Ubiquiti offers several different categories of switches, carefully designed to optimize any network in any environment. Let's take a closer look at these categories to help you identify the models that will benefit you the most.
Today we're going to look at a series of Ubiquiti switches such as:
Switch Lite Series
Switch Flex Series
Switch Standart Series
Switch Pro Series
Switch Enterprise Series
The main thing they have in common is that they can be seamlessly integrated into a single network under one of the controllers – Cloud Key Gen2 or Cloud Key Gen2 Plus, as well as UDM and UDM-Pro. The key difference, however, is the different placement of each series in the network structure.
UniFi Switch Flex Series
The UniFi Flex series includes three switches: Switch Flex XG (USW-Flex-XG), Switch Flex (USW-Flex) and Switch Flex Mini (USW-Flex-Mini).
The UniFi Swith Flex has a rather unusual design, reminiscent of the old UniFi AC Pro access points that had a similar design. The switch has 5 gigabit ports for connecting devices. Port number one is used for power, with 802.3 bt PoE being desirable for maximum performance. The other ports distribute PoE power, including Po2 802.3 af, with automatic detection of its type.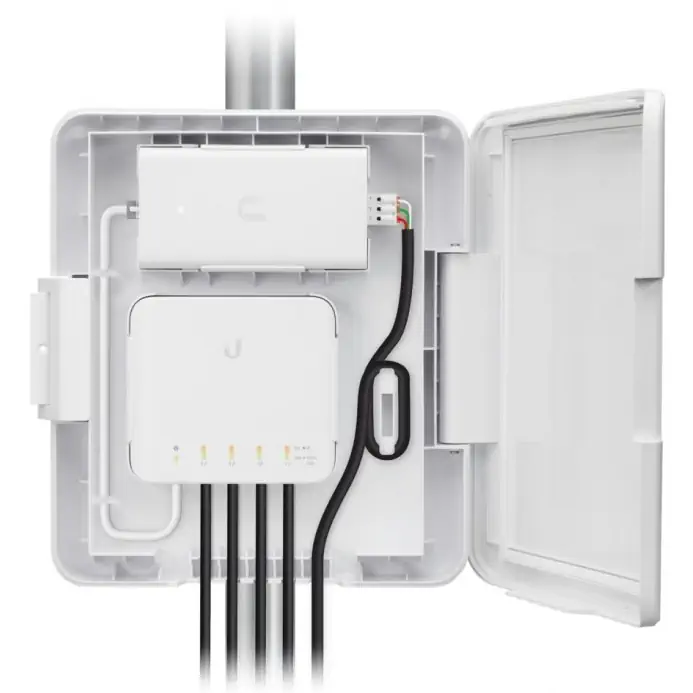 A closer look at the UniFi Switch Flex specifications – the total number of ports, the total PoE budget, and the chassis layout – reveals that it is designed for outdoor installation (mast/pole, canopy) and for connecting endpoint devices such as surveillance cameras. The switch itself acts as both a source and receiver of twisted pair power.
UniFi Switch Lite Series
The UniFi Switch Lite series is just two switches: Switch Lite 8 PoE (USW-Lite-8-PoE) and Switch Lite 16 PoE(USW-Lite-16-PoE), which differ in the number of ports, with half of them powered by PoE .
The appearance of the Lite series switches differs significantly from the well-known UniFi switch models. This is because most standard switches are designed for installation in a server rack. As such, there is no need to be too concerned about their appearance as the hardware is industrial grade and will be hidden from prying eyes.
However, not every organization has the ability or need to install a separate server rack. Of course, we are talking about small businesses here. At the same time, the need to deploy e.g. a UniFi network with multiple access points in such organizations is not a rarity, but rather a rule.
And this is where the UniFi Switch Lite series of switches comes to the rescue. These models come in enclosures that are quite suitable for placement on both office walls and desks. As a side note, the first device in the UniFi Switch series to allow such an application was the UniFi Flex Mini, but it only has 5 ports and cannot provide power, so with some reservations it can be counted as a full-fledged UniFi Switch.

UniFi Switch Lite series
Both models support the Layer 2 specification set and have configurable ports. This makes their functionality fully compatible with most rackmount switches, allowing you to flexibly configure your network according to its topology and perform precision switching. In addition, all Gigabit Ethernet ports on the wall switch feature 1 Gigabit data rates, and half of the ports support PoE power, using the 802.3at PoE standard . This standard allows the vast majority of Ubiquiti access points, such as the UniFi AP HD and UniFi AP IN-Whall Pro, to be powered to create a wireless Wi-Fi network in a small office.
To get the full picture, let's take a closer look at the Switch Lite 8 PoE switch and see what it comes with, as well as its settings.
After opening the box with the device, we have:
Switch Lite 8 PoE
Power supply
Wall mounting bracket
Two wall plugs and two screws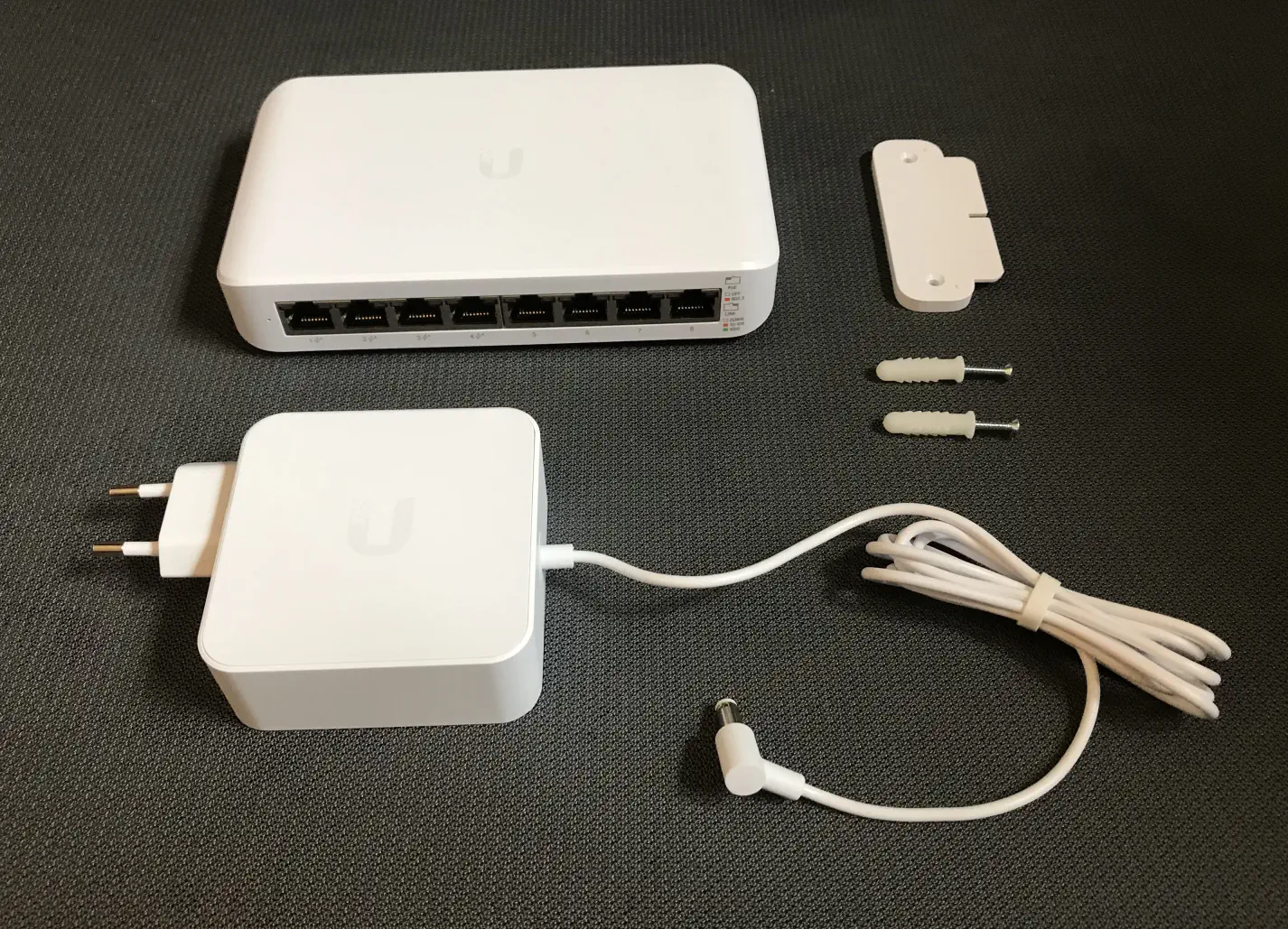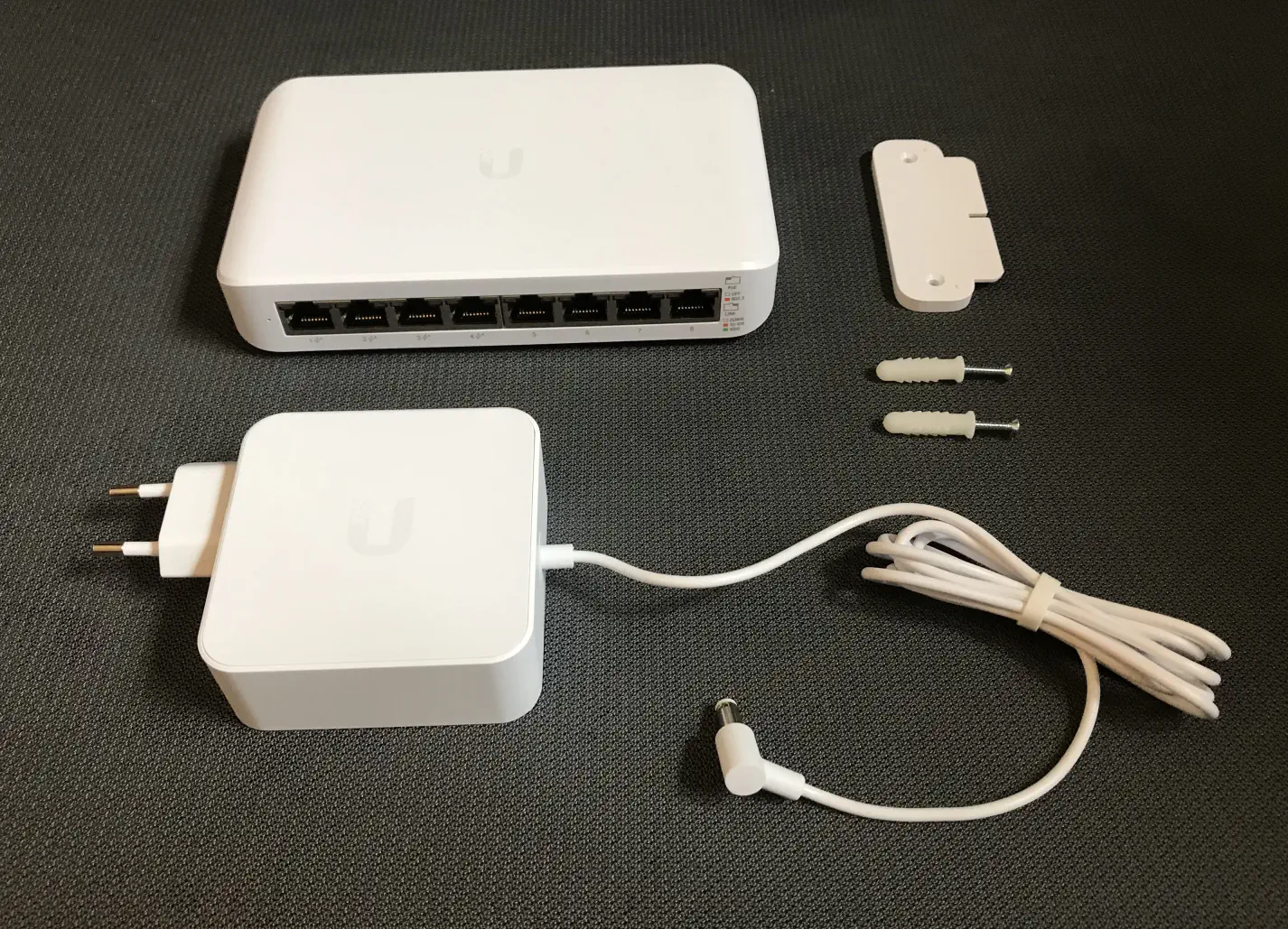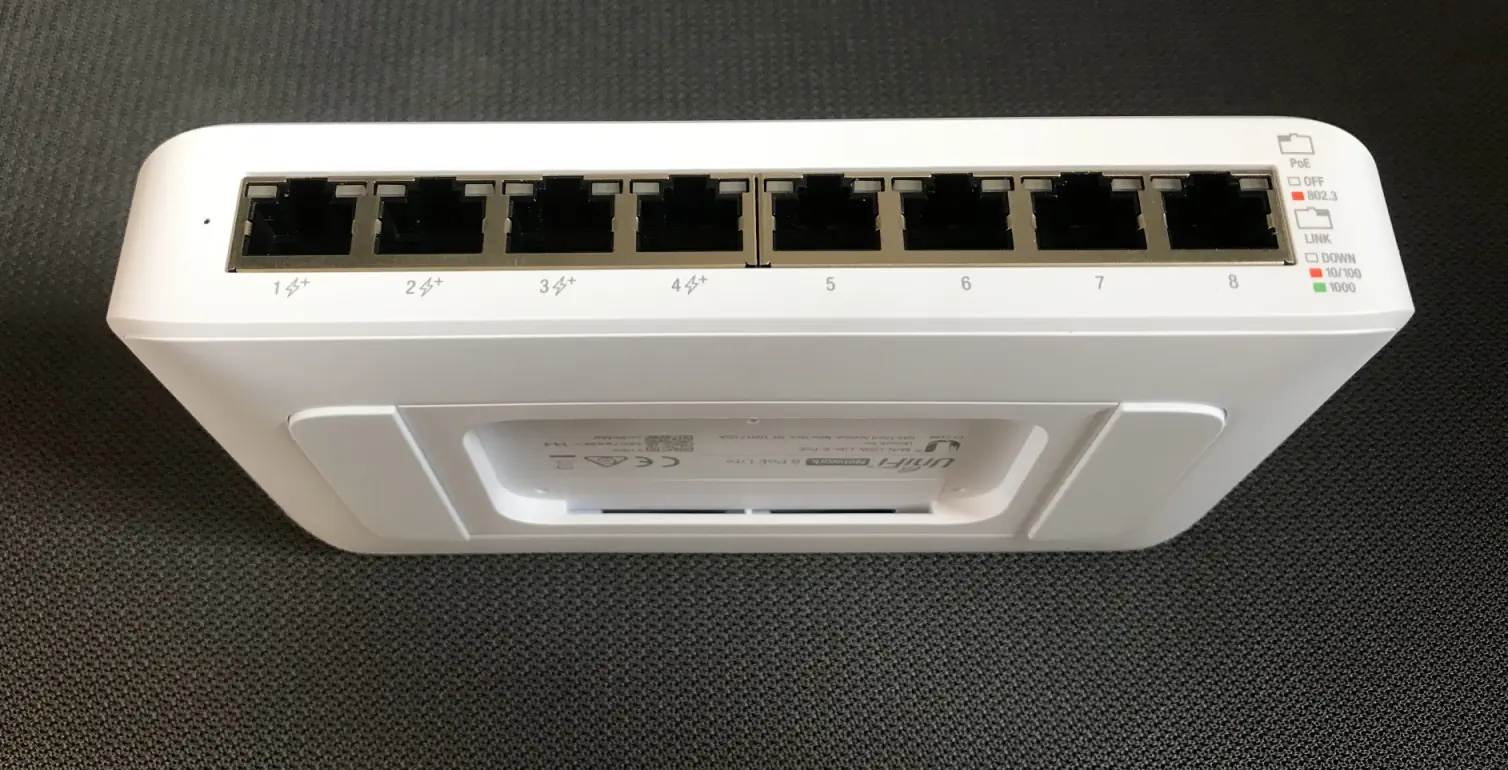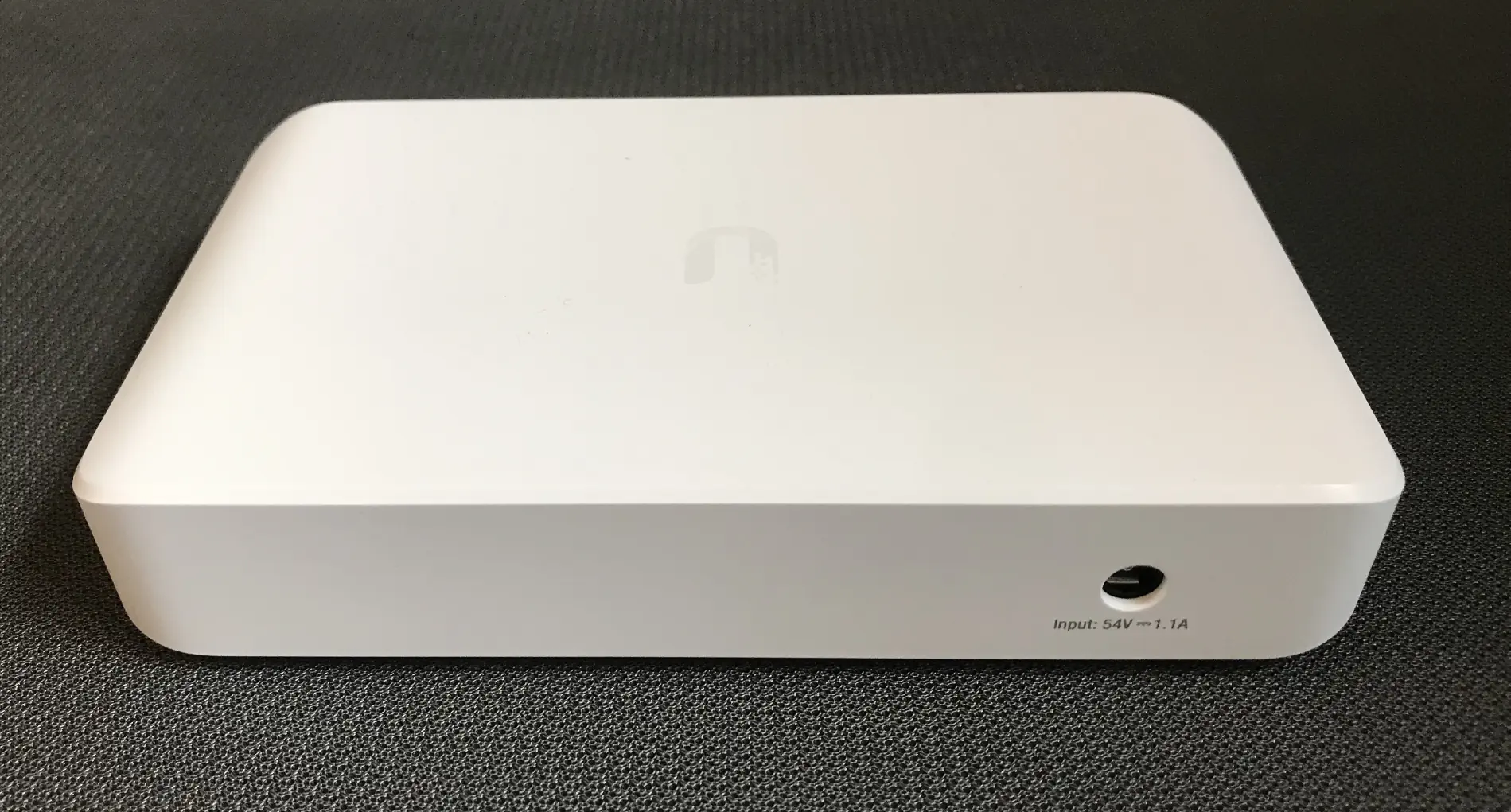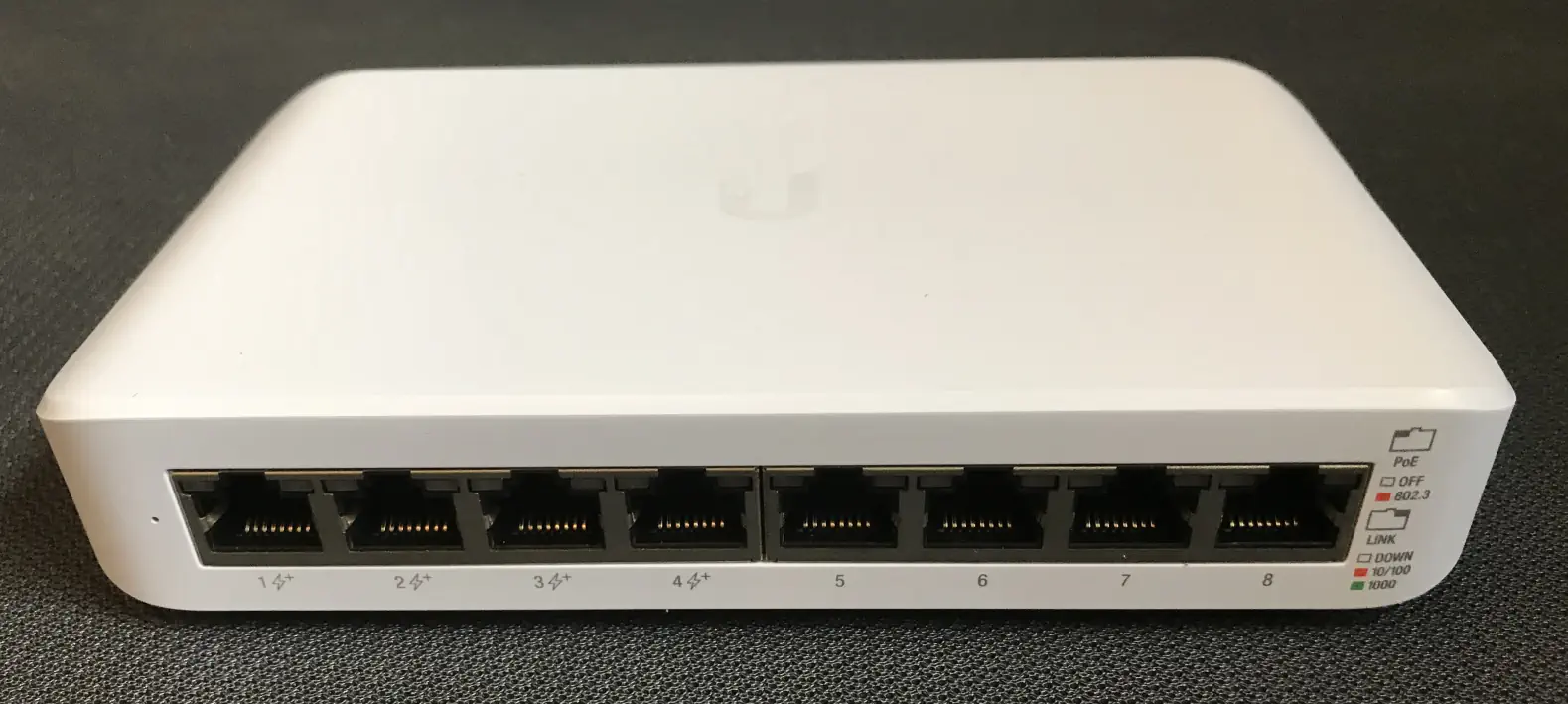 keyboard_arrow_left
keyboard_arrow_right
Once connected to the network, let's run through the initial configuration of the Switch Lite 8 PoE and see what basic settings it has for network management.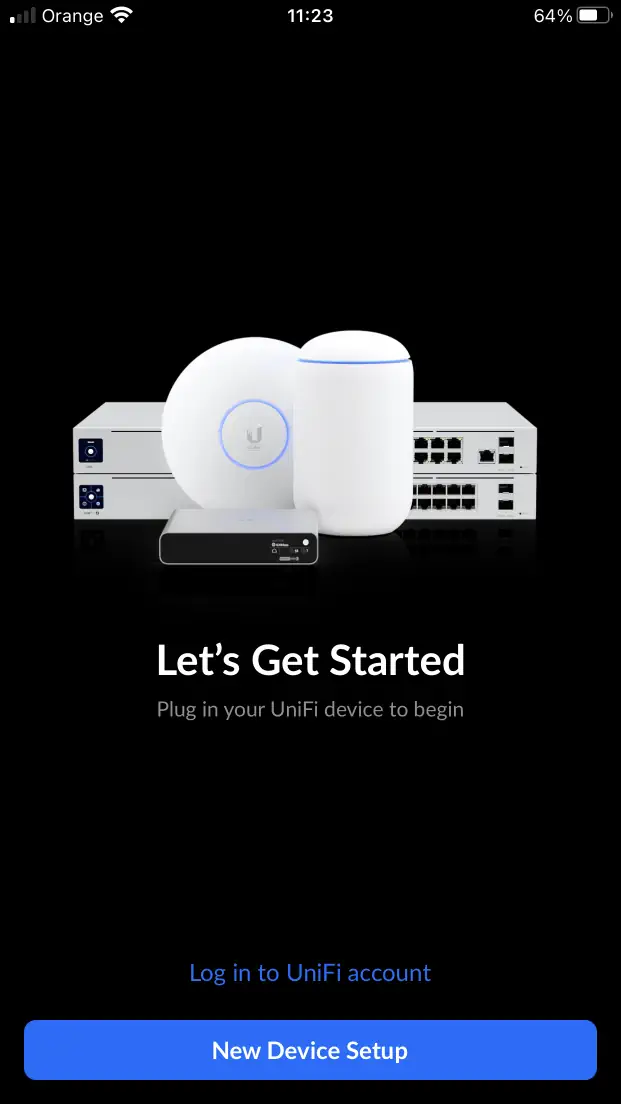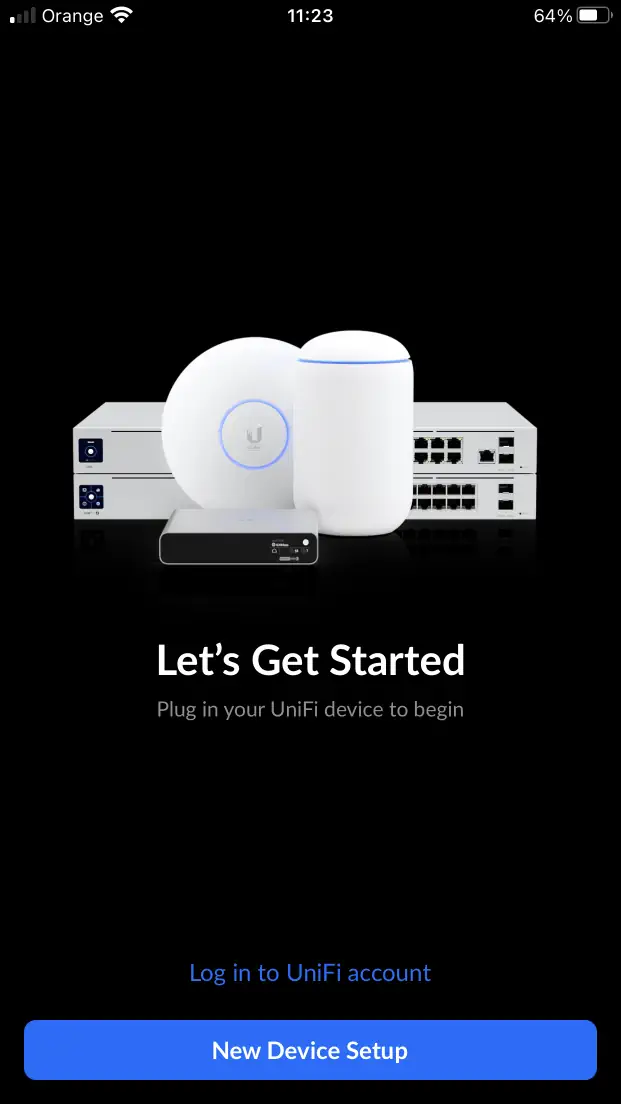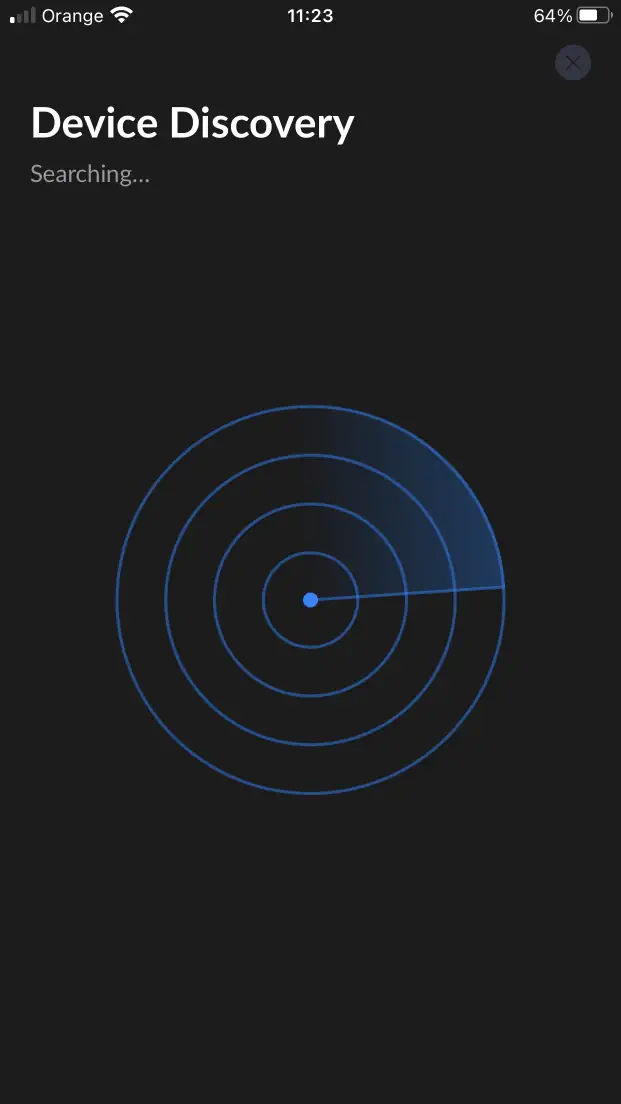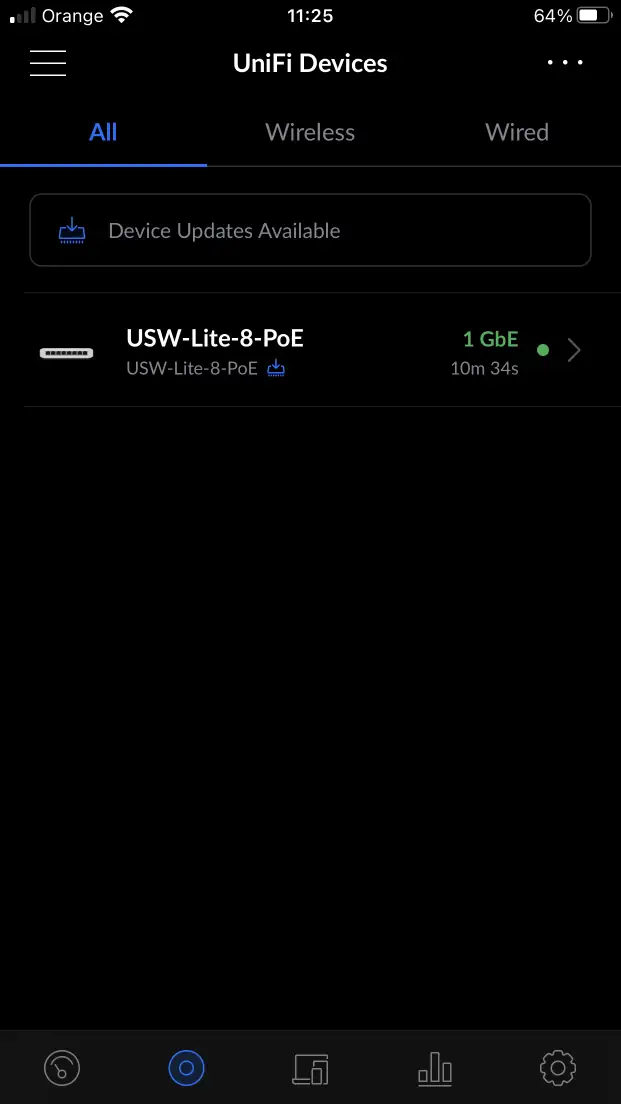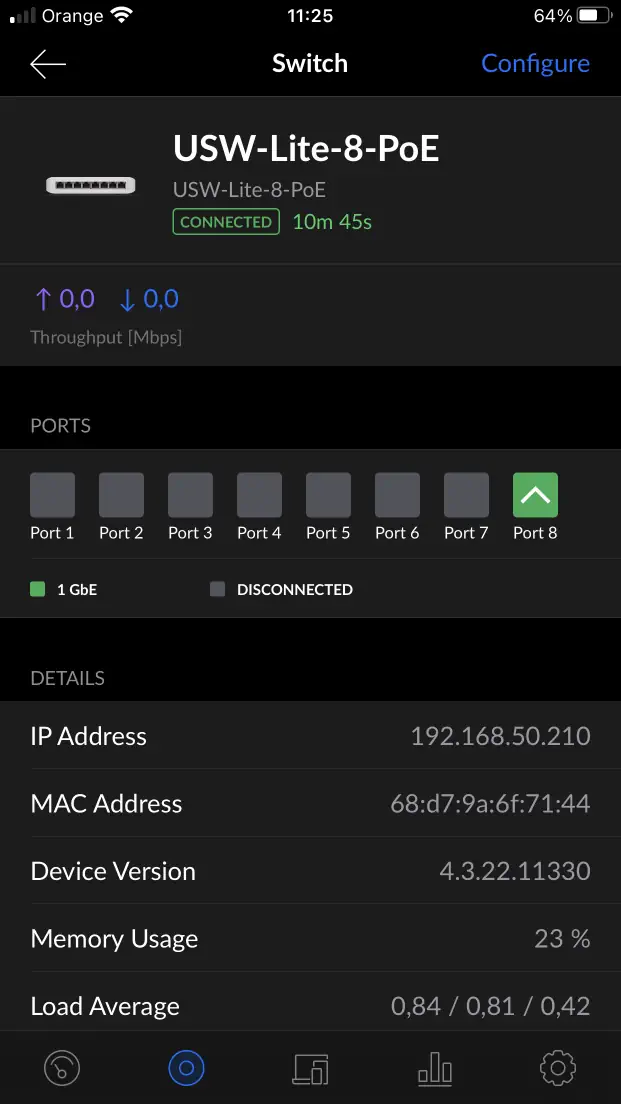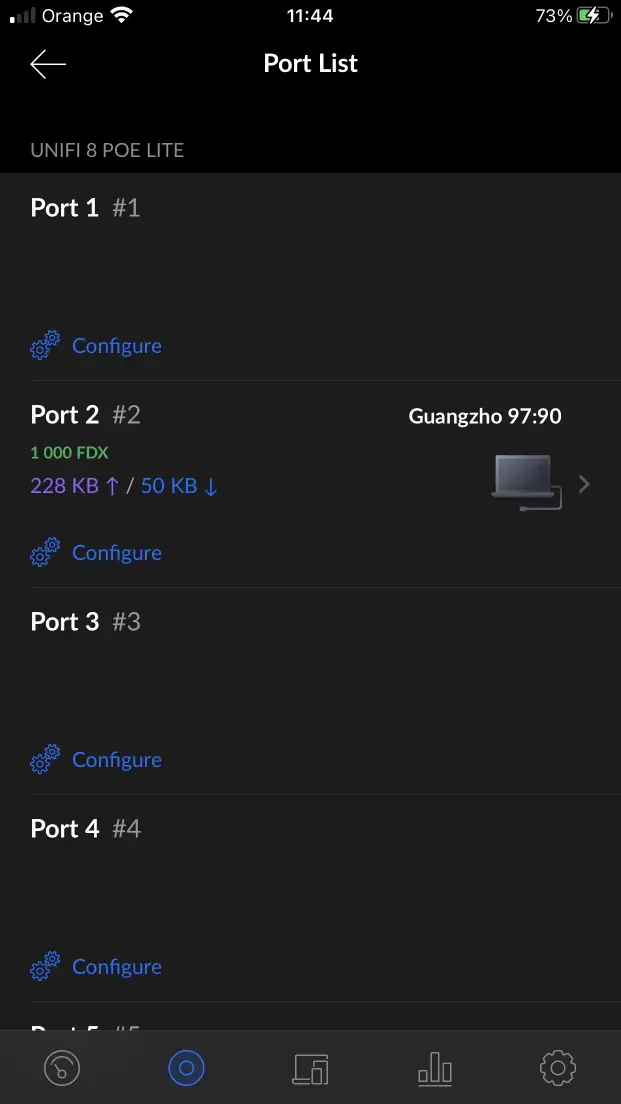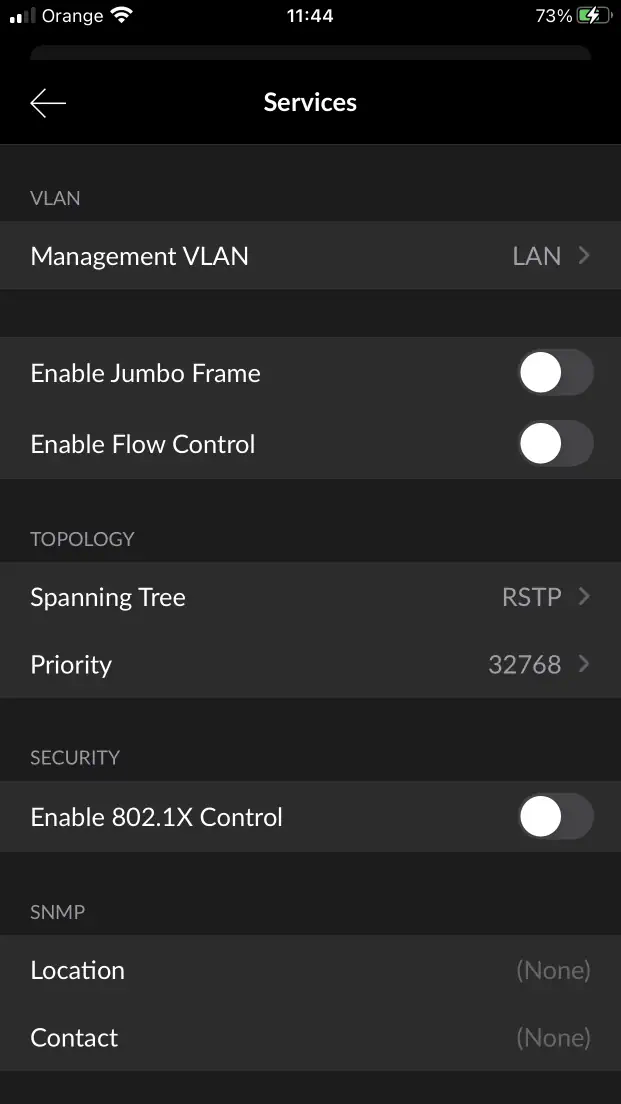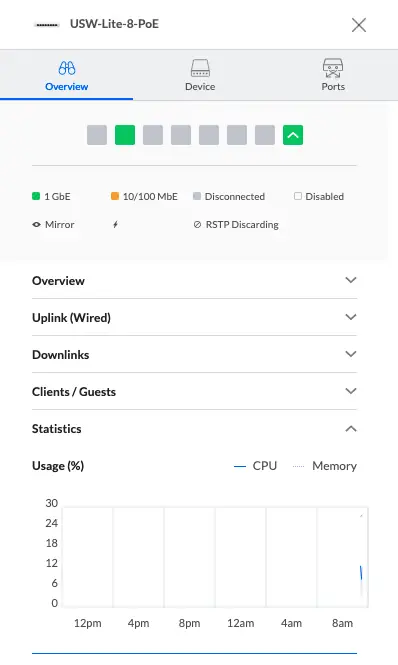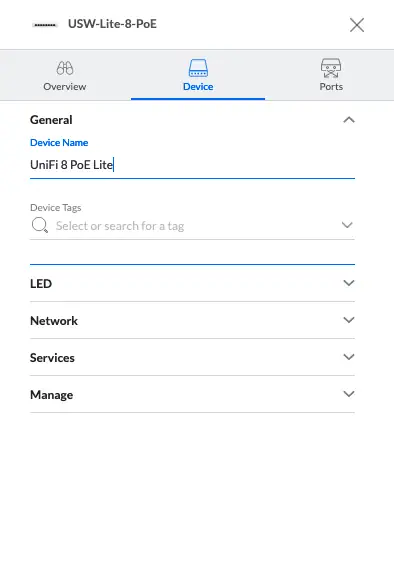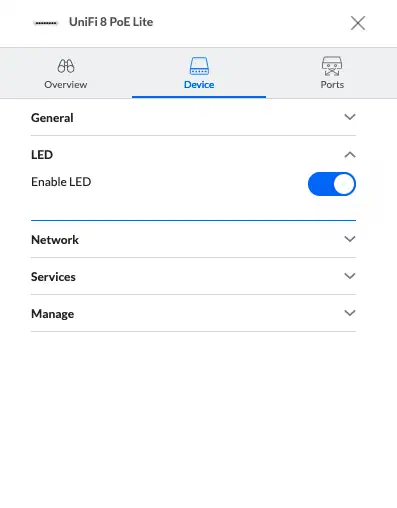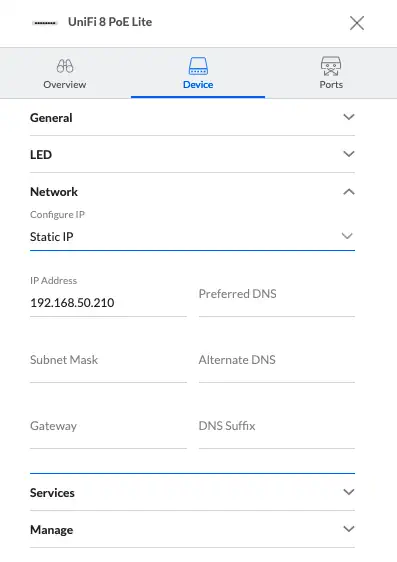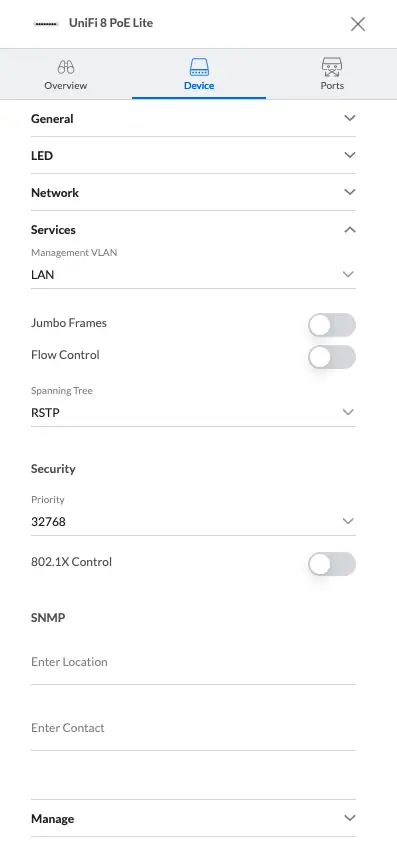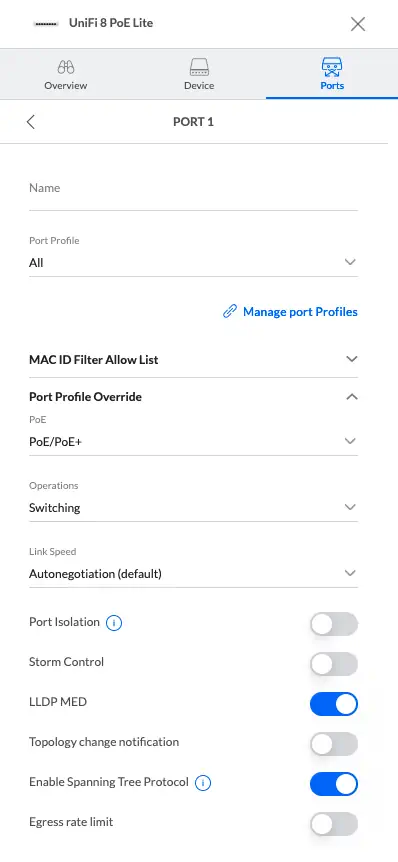 After testing the switch, we came to the following conclusions:
With each software update, the manufacturer changes to find certain settings. It used to be easy to find Vlan settings, now it's more difficult (although this is not specific to the Lite series, but we decided to include it). There are more switch settings in the UniFi Controller system than described on the manufacturer's official website (not sure if they actually work).
The main advantage of the Lite series is the sleek design that will fit in your office or home and the PoE ports.
The downside, however, is that half of the ports are PoE powered.
Switch Standart Series
The UniFi Standart switch series is represented:
UniFi Switch Aggregation (USW-Aggregation)
UniFi Switch 48 PoE (USW-48-PoE)
UniFi Switch24 PoE (USW-24-PoE)
UniFi Switch16 PoE (USW-16-PoE)
UniFi Switch 48 (USW-48)
UniFi Switch 24 (USW-24)
UniFi Switch (Standart) is designed for mid-range networks where Layer 3 features are not required. The cooling system is as quiet as the UniFi Switch Pro units. Except that the UniFi SmartPower USP-RPS is not available compared to the Pro series. On the other hand, it is also worth noting that full throughput on 10Gb connections is limited.
The UniFi Switch and UniFi Switch Pro series can be operated via a mobile app. Touchscreen displays allow the administrator to quickly search for switch data. And the mobile app takes network management to a whole new interactive level.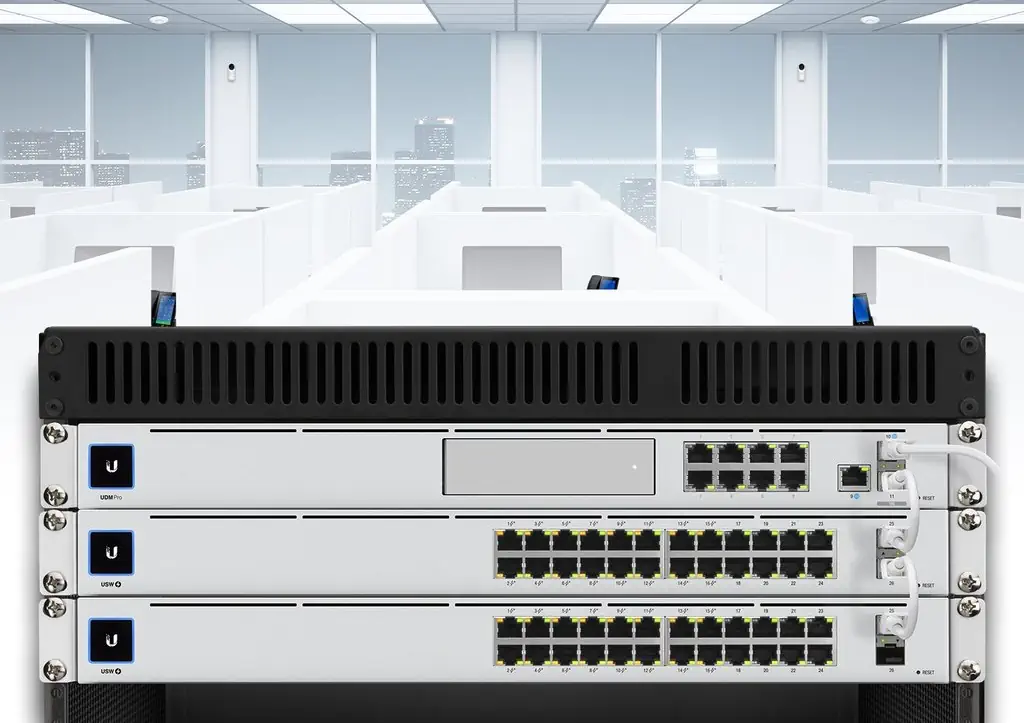 UniFi Switch series (Standart)
Switches with or without PoE power and the required number of ports are required depending on your business needs. All switches are built into a standard server rack.
The convenience of using these types of switches comes from their reliability, speed and the ease of configuring all the switches simultaneously from one place using the UniFi Controller.
The 1.3″ color touch screen provides instant information about the switch status and allows network administrators to quickly diagnose and prevent incidents from occurring.
This UniFi Switch line also includes the UniFi Switch Aggregation Layer 2 SFP switch with eight 10G SFP ports specifically designed for installations where the highest throughput and reliability is required. UniFi Switch Aggregation supports high-speed link aggregation for increased traffic and service availability. The switch's internal bus provides 160 Gbps throughput.
UniFi Switch Pro Series
In our opinion, the most interesting series of UniFi routers. The switches in this range include:
UniFi Switch Pro Aggregation (USW-Pro-Aggregation)
UniFi Switch Pro 48 PoE (USW-Pro-48-PoE)
UniFi Switch Pro 24 PoE (USW-Pro-24-PoE)
UniFi Switch Pro 48 (USW-Pro-48)
UniFi Switch Pro 24 (USW-Pro-24)
UniFi Switch Pro features Layer 2 and Layer 3 switch functionality, as well as 10 Gb SFP ports . Compared to the first, the second switch generation has a more modern cooling system, which is twice as quiet under the heaviest loads. The switches of this series are equipped with the optional UniFi SmartPower USP-RPS device. The USP-RPS allows you to switch to a backup power channel if the main power source fails. UniFi Switch Pro with PoE support offers 802.3bt PoE on up to 8 devices and 802.3af/at on the remaining PoE ports. But it all depends on the model. For example, the USW-Pro-48-POE can distribute a total of 600 watts across all ports, while the USW-Pro-24-POE is limited to 400 watts.
Let's take a closer look at some of the switches in this series.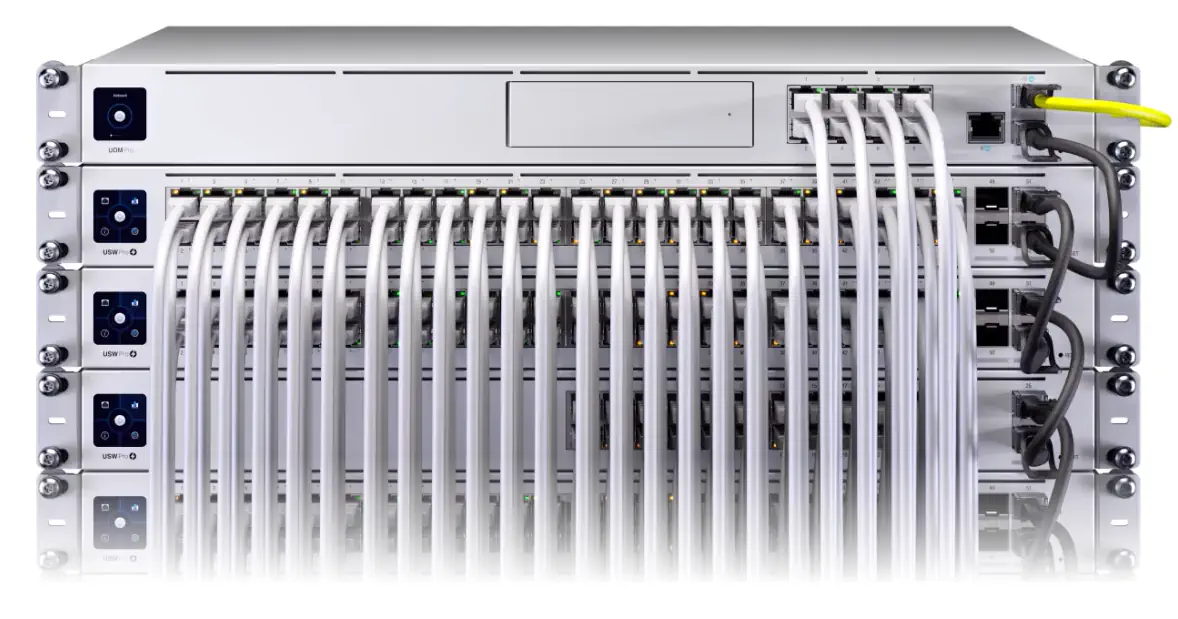 UniFi Switch Pro Series
Starting with the simplest switch in the series
UniFi Switch Pro 24 (USW-Pro-24)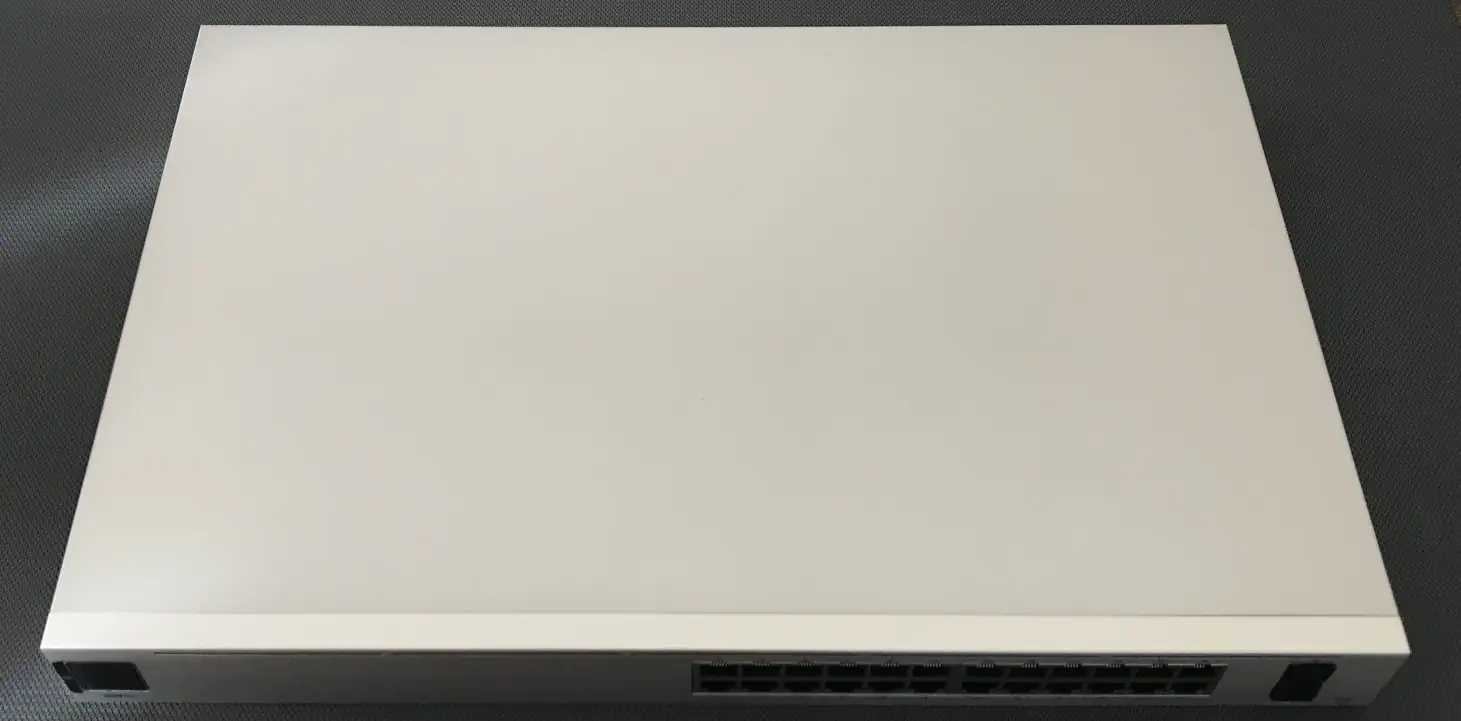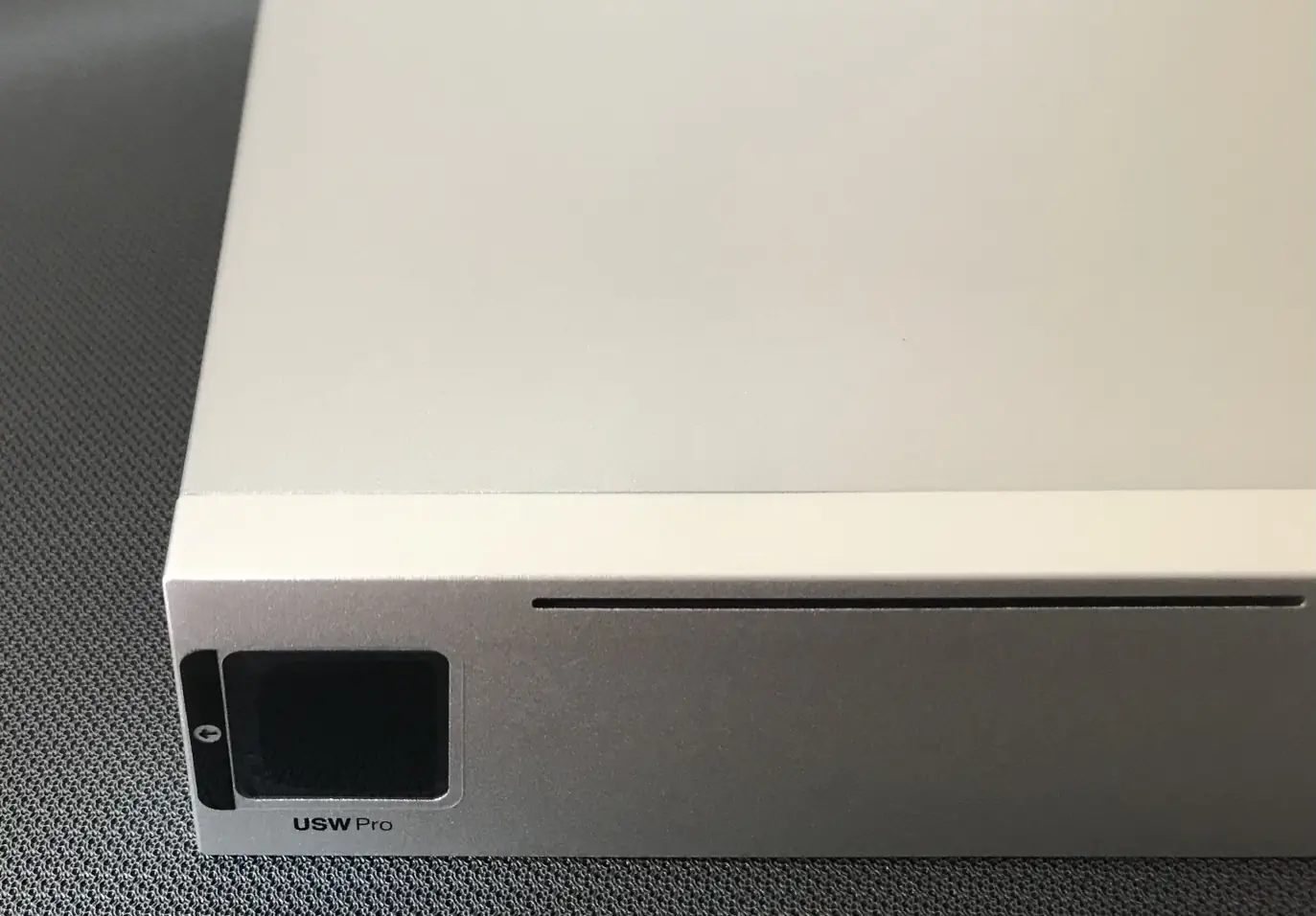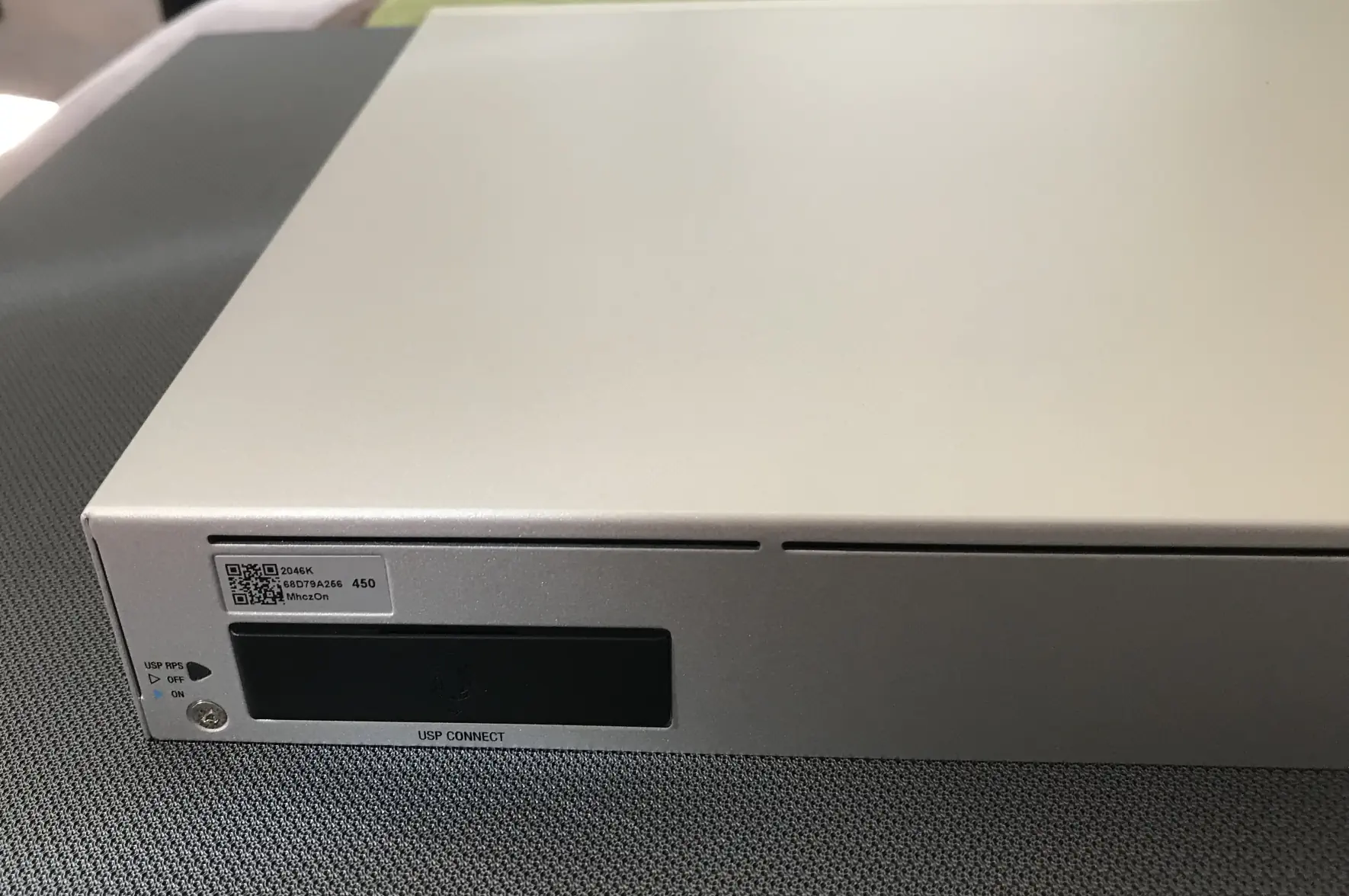 The UniFi Switch Pro 24 (USW-Pro-24) features a built-in 1.3-inch color touchscreen that provides instant status information about the switch and allows network administrators to quickly diagnose and prevent incidents.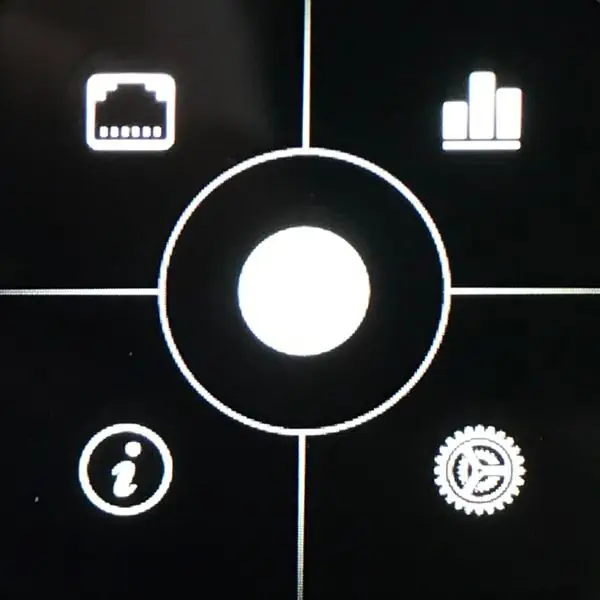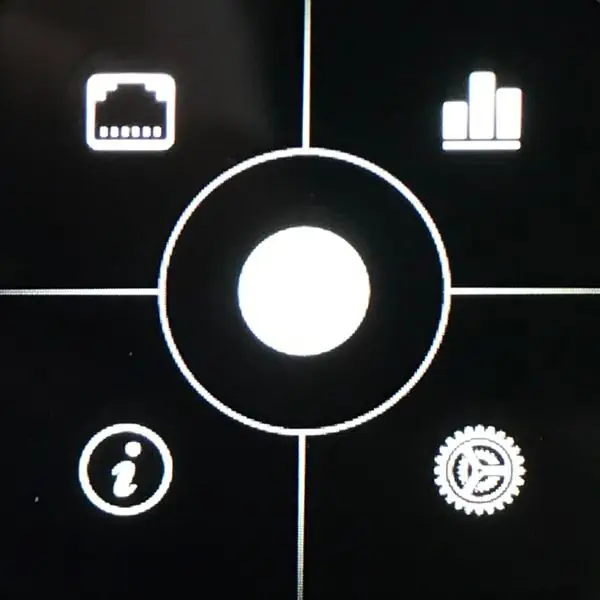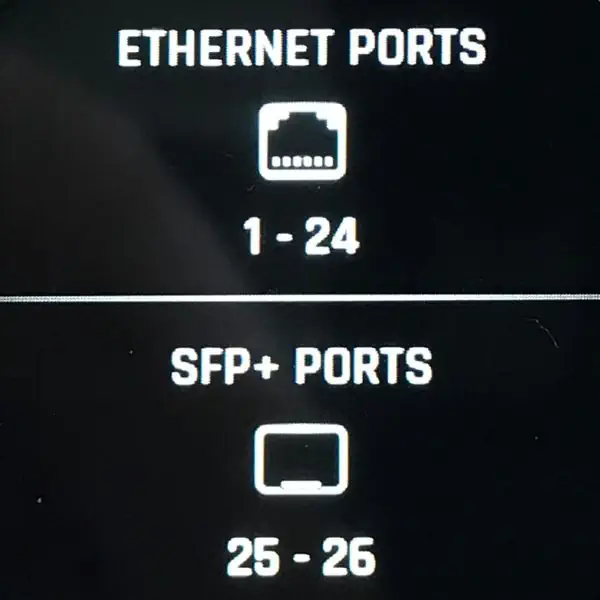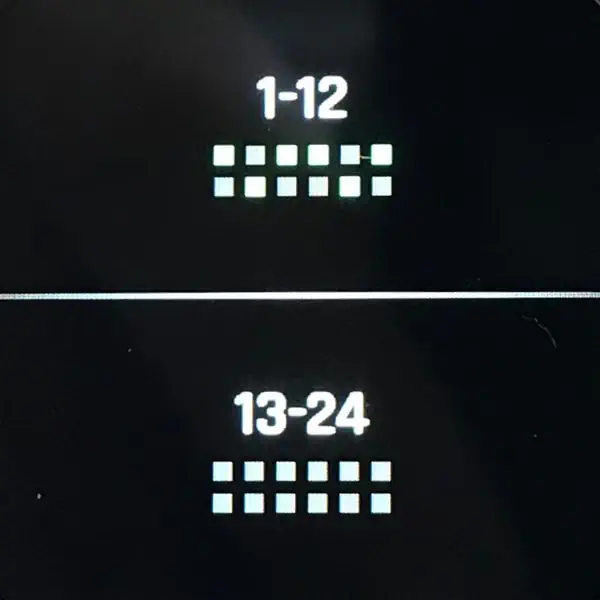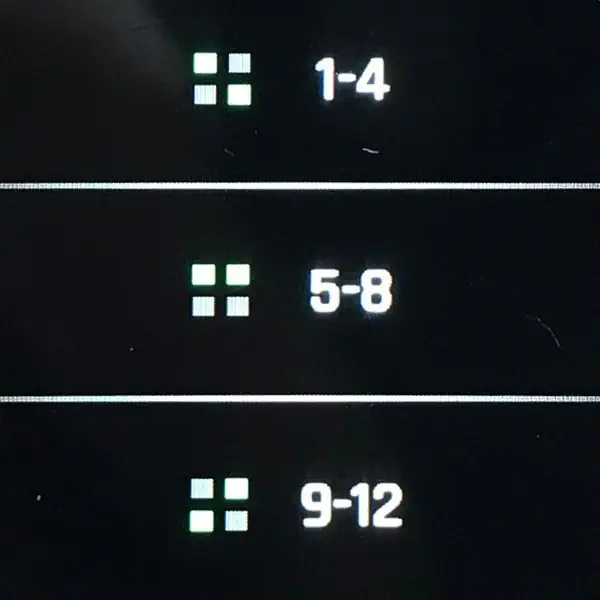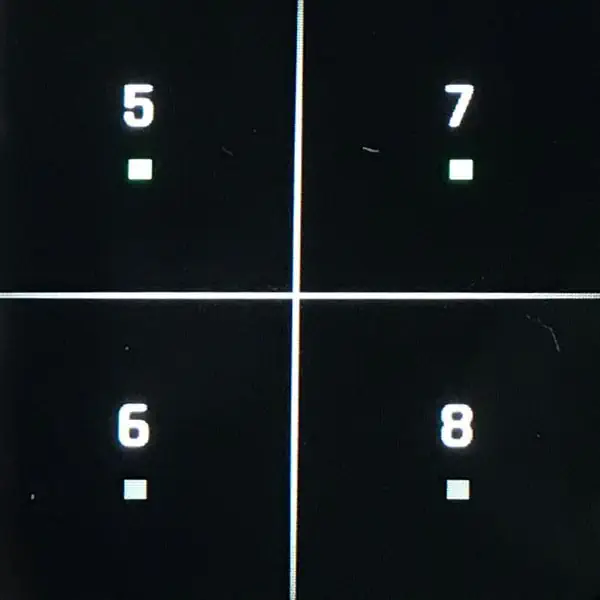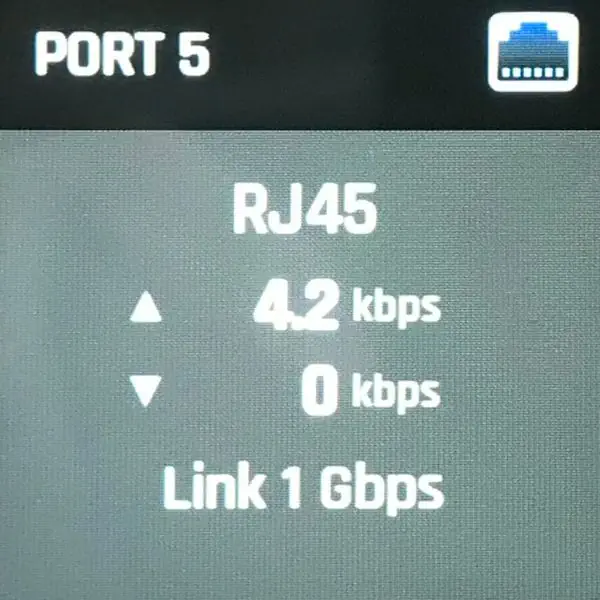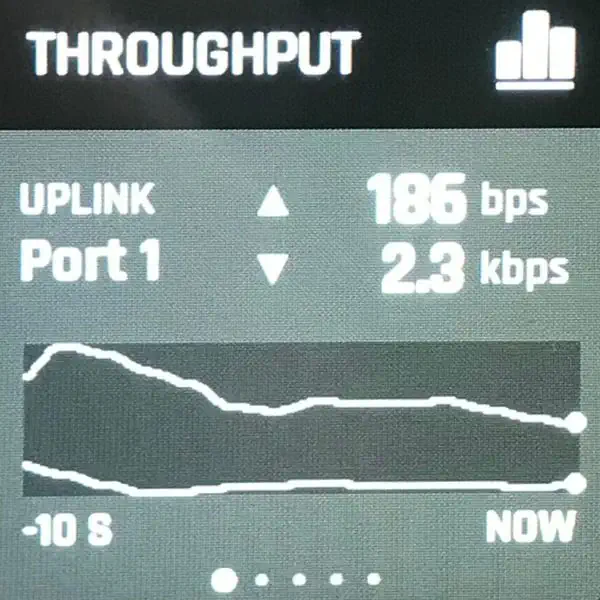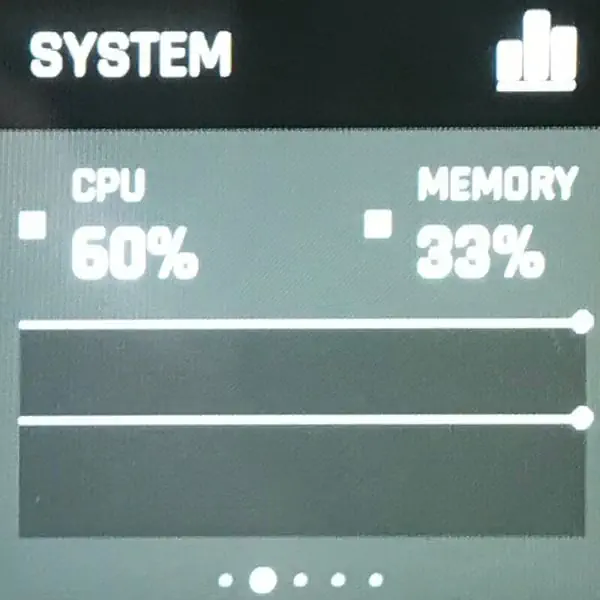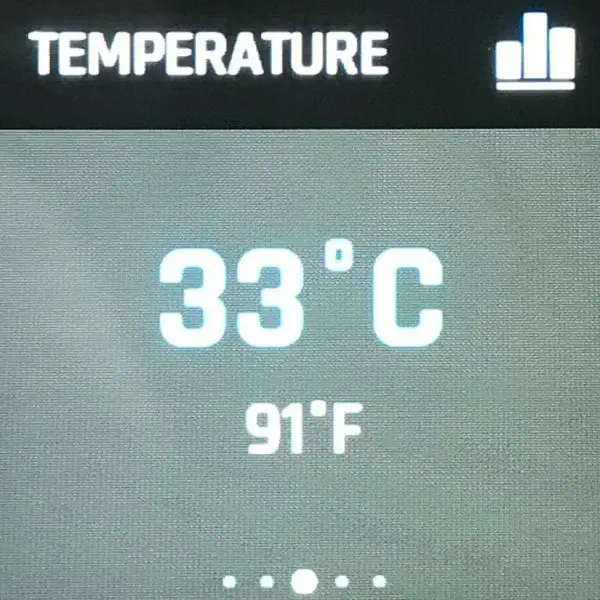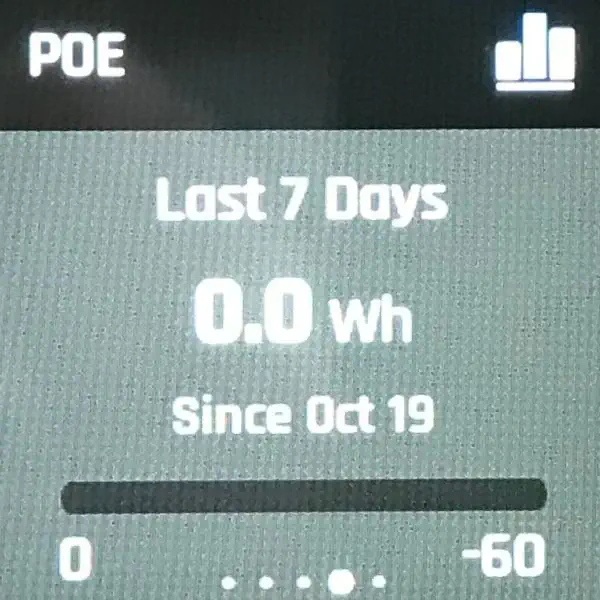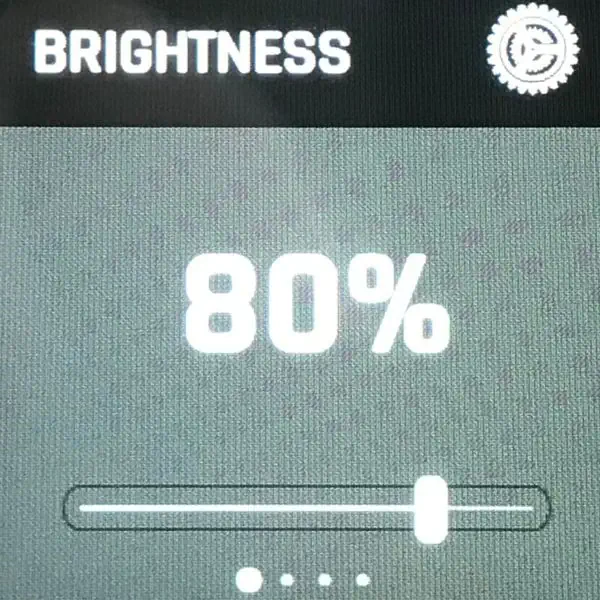 keyboard_arrow_left
keyboard_arrow_right
With a wide range of Layer 3 capabilities, UniFi Switch Pro 24 allows fine tuning of network algorithms with traffic routing between VLANs, static routes, DHCP server. Two 10Gbps SFP ports can be combined for increased throughput and fault tolerance. UniFi SmartPower RPS power redundancy helps to prevent possible power failures and the cooling system is almost silent.